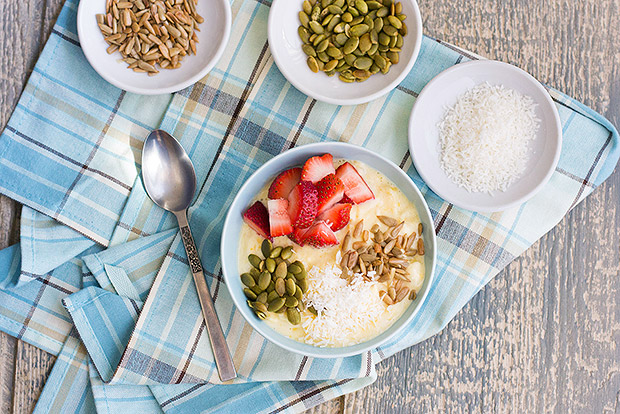 A smoothie bowl turns your favorite healthy breakfast shake into a meal with nutritious toppings. This version uses unsweetened frozen fruit and yogurt to create a creamy base with protein and calcium. It's topped with fresh fruit for more fiber, and a few seeds add heart-healthy fat to keep you full.
Yield: 1 serving
Preparation time: 15 minutes
Ingredients
½ cup unsweetened frozen pineapple
½ cup unsweetened frozen mango
¼ cup non-fat plain Greek yogurt
¼ cup skim milk
2 fresh strawberries, chopped
1 tbsp roasted, unsalted sunflower seeds
1 tbsp roasted, unsalted pumpkin seeds
½ tbsp unsweetened shredded coconut
Directions
Place the pineapple, mango, yogurt, and milk in a blender. Pulse until all ingredients are blended. The smoothie will be very thick. You might need to open the blender and scrape the sides a few times to ensure everything is pureed. A single-serving drink blender works well for this recipe.
Transfer the smoothie to a small bowl. Top with strawberries, sunflower seeds, pumpkin seeds and coconut, and serve.
Nutrition information: Calories 241; Total Fat 6.5 g; Saturated Fat 1.5 g; Trans Fat 0 g; Cholesterol 1 mg; Sodium 61 mg; Carbohydrate 34.9 g; Fiber 3.4 g; Sugar 23.5 g; Protein 11.1 g