Childhood Obesity: A Parent's Guide
QUESTION:

I've struggled with weight and food issues for most of my life. I'm just now starting to deal with these issues in a healthy way. However, my young daughter is kind of chubby and I'm terrified that she may be starting on a life struggle with weight. What should I do?
ANSWER: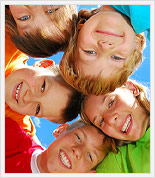 As a parent, you play an important role in how your daughter will relate to food and body weight issues. Parents have a tremendous impact on both the self-image and eating behavior of their children.
The first thing you should do is make sure that you are not revealing any lingering negative comments about yourself in front of your daughter. Many individuals who have struggled with weight issues have a less than ideal body image and often repeat negative self talk out loud. Standing in front of the mirror and saying that you hate this or that about your body will teach your daughter that's how women should think and feel about themselves. Instead, focus on and talk about positive attributes that you're proud of, both in yourself and your daughter. Minimize physical attributes, such as "looks", and make a conscious effort to talk about talents, skills, character, and empathy for others. Lend a helping hand to a neighbor and talk about how that makes her feel inside. Explain how her time and effort are special gifts to the world.
Next, integrate healthy activity into your day without making it feel like a chore. Children naturally like to run around and play. Make an effort to play outside with her on a daily basis. Go on treasure hunts for nature items around the neighborhood, ride bikes to the park, swim, and play freeze tag… get innovative with activities that your daughter will enjoy. Never bring up burning calories or exercising to lose weight. You can mention how it feels good to move your body though. Most importantly, focus on having fun!
In the realm of nutrition, it's important to realize what you should control and what you shouldn't. Ellyn Satter, an author and expert on child feeding, has described this division of responsibility as such: parents should be responsible for the type of food that is presented to the child (the what), and when and where it is offered; children, on the other hand, are responsible for whether or not they choose to eat and how much. For instance, offering structured, healthy meals and snacks in a peaceful environment is ideal. However, forcing your daughter to eat them is not. The goal is to develop an internal sense of conscious eating in the child. Avoid the "good food, bad food" trap and instead offer a large variety of food. You can definitely center your diet on healthy items but include treats and favorite foods also. You are one of her most important role models. By sitting down and enjoying satisfying and nutritious meals with her, you are shaping her eating preferences in a positive way. For more information on child feeding, refer to the many books by Ellyn Satter.

| | | |
| --- | --- | --- |
| Related Articles: | | |
Our expert, Dr. Sharon E. Griffin, holds a B.S., M.S., and Ph.D. in the areas of exercise science/physiology. She also holds a second M.S. degree in Nutrition and is a licensed nutritionist and an ACSM certified health and fitness instructor.
© 2023 MyFoodDiary.com. All Rights Reserved.