Maintaining Exercise Through the Holidays
QUESTION:

I have been maintaining a regular exercise routine for about 6 months and am feeling great. However, I always get so busy and frazzled with the holidays and I don't see myself being able to find the time to continue with my workouts. Is there any harm in stopping exercise and picking it back up with the New Year?
ANSWER: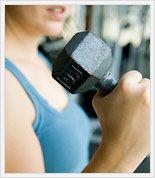 Whatever you do, DON'T stop exercising now with the intention of picking it back up at a later time! Maintaining the momentum of your regular exercise routine is much easier than trying to re-establish it again at a later date. In addition, de-training does occur quite rapidly and it's always better to shift to maintenance workouts than to stop altogether and lose some of the benefits that you've worked so hard to gain.
Although it's tempting to throw exercise by the wayside, especially when the holidays place even more demands on already hectic schedules, continue to make it a priority. Exercise can be a valuable tool to fight the difficulties of the coming season. Check out some of the benefits:
Holiday Weight Gain
Research has shown that the holidays are a high risk time period for gaining weight. Two primary ways in which exercise can combat this risk is by 1) expending calories and contributing to a negative caloric balance, and 2) maintaining muscle mass and thereby sustaining metabolic rate.
Holiday Stress
The holiday season, although typically joyous, does bring stress along with it ... added shopping, increased food preparation, house guests and frequent visitors, financial stress, more demands on our time, and simply a change in schedule all amount to increased stress. Change, whether it is good or bad, equates to stress. Exercise reduces stress by releasing "feel good" endorphins. In addition, it provides an outlet to release built-up stress that, if left to its own accord, can often lead to overeating.
Seasonal Depression
As we approach the winter solstice, the season chips away at our daylight hours. For many people, this can lead to varying degrees of seasonal depression. Although exercise can't make the days longer, it can reduce depressive symptoms and elevate mood. Performing an outdoor workout at the noon hour provides additional benefits by increasing sunlight exposure.
Exercise Provides Structure
A primary benefit of maintaining your exercise routine is the addition of structure to your day. One of the main culprits associated with stress, depression, and weight gain is a reduction in structure within our daily routines. By maintaining your regular exercise routine in the face of the upcoming demands, you are providing stability and comfort to yourself. Daily routines help us stay on track with our food intake, stabilize our circadian rhythms, aid in maintenance of sleep schedules, and provide a stable backdrop to our day -- thereby offering a framework in which we can prioritize the demands put upon us.
In the hectic days ahead, don't forget to give yourself the gift of exercise!

Our expert, Dr. Sharon E. Griffin, holds a B.S., M.S., and Ph.D. in the areas of exercise science/physiology. She also holds a second M.S. degree in Nutrition and is a licensed nutritionist and an ACSM certified health and fitness instructor.
© 2023 MyFoodDiary.com. All Rights Reserved.