Staying Motivated in Weight Loss
QUESTION:

I have 20 pounds to lose to reach my ideal body weight. Do you have any ideas for helping me stay on track with my nutrition and fitness routine? I am motivated to get healthy and lose the extra weight, but sometimes I lose focus.
ANSWER: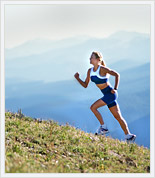 It can be difficult to stay focused, especially in the beginning when new changes have not been integrated into routines and your old habits still prevail.
Keeping a journal can be a tremendous help as it slows us down and forces us to pay attention to the changes going on in our life
†
. If we do not take the time to assess our progress, sometimes the small changes in physical, emotional and mental health go unnoticed. Individualize your journal to meet your own personal needs. It can be a record of what you eat and how you feel at the time, a log of your activity for the day, a diary-type journal in which you simply touch base with your feelings, or a combination of all three. Becoming consciously aware of improvements will boost your motivation.
The Personal Notes section on the main page of your account is a great place to journal

your thoughts.
Another method that can help remind you of your goal is to place a 20 pound weight in a prominent place; for example, place it on the dinner table or on the couch where you normally sit to watch television. Pick it up periodically, or better yet, carry it around a bit each day to feel the magnitude of this weight that is slowing you down. The idea behind this suggestion is NOT to beat yourself up over the weight that you need to lose. The purpose is to remind you of what your body is dealing with on a daily basis. Our bodies are actually very efficient in carrying extra weight, and we tend to not notice the drag -- especially since the weight tends to come on slowly. As you lose weight, trade in that 20 pound weight for a 15 pound weight and so on.
Lastly, make sure that your weight loss goal of 20 pounds is flexible. Ideal weight recommendations are simply that - recommendations. For instance, you may find that after losing 15 pounds you feel strong, lean and energetic and that further weight loss is difficult and results in weakness and hunger. Listen to your body and trust the feedback that it provides you. You will know when you reach a healthy weight that is right for you.
| | | |
| --- | --- | --- |
| Related Articles: | | |
Our expert, Dr. Sharon E. Griffin, holds a B.S., M.S., and Ph.D. in the areas of exercise science/physiology. She also holds a second M.S. degree in Nutrition and is a licensed nutritionist and an ACSM certified health and fitness instructor.
© 2023 MyFoodDiary.com. All Rights Reserved.