Superfoods
QUESTION:

I've seen signs at health food stores that say some foods are "superfoods". What does this mean and is it true?
ANSWER: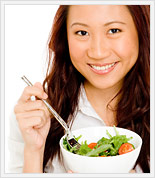 The latest buzz in the nutrition field is the term "superfoods" or "functional foods". These terms refer to wholesome foods that provide a high level of nutrients in each serving, particularly antioxidant vitamins, healthy fats, and/or phytochemicals that help fight disease. There are no strict guidelines yet as to what qualifies as a "superfood". However, for an idea of some food items that health experts have regarded as "superfoods", check out the following list:
Blueberries
Broccoli
Cinnamon
Citrus Fruits
Eggs (from free range chickens)
Flax Seed
Green Leafy Vegetables (chard, kale, etc.)
Green Tea
Olive Oil
Orange Vegetables
Pomegranates
Salmon
Sea Vegetables
Soy Products (tofu, etc.)
Tomatoes (especially cooked)
Whole Grains
Yogurt
In light of the fact that some foods are indeed healthier than others, I suppose the term "superfoods" or "functional foods" is fitting and appropriate. Filling your diet with nutrient dense foods such as these can be beneficial and health-promoting, so indulge!

Our expert, Dr. Sharon E. Griffin, holds a B.S., M.S., and Ph.D. in the areas of exercise science/physiology. She also holds a second M.S. degree in Nutrition and is a licensed nutritionist and an ACSM certified health and fitness instructor.
© 2023 MyFoodDiary.com. All Rights Reserved.