Gardening: A Plentiful Crop
QUESTION:

We started a garden this year in an attempt to help our goals of healthier eating. It has been a great success and I now have an abundance of vegetables -- especially zucchini! Do you have any suggestions on ways to use up our plentiful crop?
ANSWER: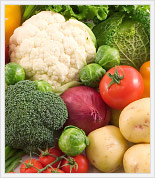 Congratulations on your successful harvest as a first time gardener. Starting out is not always easy, but it sounds like you did everything right. Sharing your produce with friends and family is a wonderful way to share the joy of gardening and healthy eating. You may even find a neighbor willing to trade for a produce type that you may not have planted … they partake in the pleasure of your zucchini surplus in exchange for some of their surplus. Many communities have small farmer's markets in which you can meet other gardeners and barter produce. It is a wonderful way to explore the benefits of eating fresh, organic and local produce.
However, one of the primary delights of gardening is actually utilizing the fruits of your labor in your own kitchen and serving it up on the table. Zucchini is especially wonderful as it is so versatile. One of my family's favorite uses for zucchini is zucchini bread. The children absolutely love it. It is a quick bake bread that consists of the usual flour, sugar, eggs and baking soda, along with oil and shredded zucchini. Add some nuts, cinnamon and/or nutmeg for variety.
Zucchini Bread

3 eggs beaten
3 cups whole wheat flour
1 cup cooking oil (i.e., canola oil)
1 tsp salt
2 tsp vanilla
1 tsp baking soda
2 cups sugar
1 tsp cinnamon or nutmeg
2 cups grated zucchini (with peel)
Chopped nuts (if desired)
Mix first column of ingredients in mixer until smooth. Add second column of ingredients and gently mix. Pour into 2 large greased loaf pans or four mini loaf pans. (Tip: Line bottom of pans with wax paper for easy removal.) Bake at 325 degrees for 1 hour.
Another favorite of ours is the spicy side dish calabacitas. It typically contains corn, melted cheese, sliced zucchini and green chili -- a favorite in my home state of New Mexico. There are many different varieties of calabacitas that can be prepared on the stove top or in the oven. It is a fantastic autumn dish to be enjoyed as the days start to cool. Find some recipes online and experiement until you find some recipes that suit you.
Fried zucchini patties are also easy and versatile. Simply mix shredded zucchini with some beaten eggs, flour, and bread crumbs and fry 'em up. Onions, cheese and spices can be added as desired. Add some scrambled eggs and veggie breakfast strips for a lasting breakfast meal; serve with cottage cheese and sliced tomatoes for a quick and easy lunch; or use them as a side dish at dinner that the whole family will enjoy.
Have fun experimenting with that plentiful crop!
| | | |
| --- | --- | --- |
| Related Articles: | | |
Our expert, Dr. Sharon E. Griffin, holds a B.S., M.S., and Ph.D. in the areas of exercise science/physiology. She also holds a second M.S. degree in Nutrition and is a licensed nutritionist and an ACSM certified health and fitness instructor.
© 2023 MyFoodDiary.com. All Rights Reserved.