Grilling Vegetables
QUESTION:

We'd like to grill outside more often but would like some menu ideas beyond the typical burgers and hotdogs. Any ideas?
ANSWER: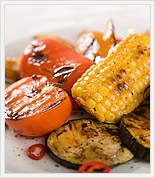 Grilling is not just for meat! This time of year is perfect for enjoying the variety of outside grilling options using those veggies harvested from your garden.
Firmer vegetables, such as bell peppers, carrots, eggplant, mushrooms and onions, can be brushed with marinade and placed right on the grill for about 10 - 15 minutes. Remember to always use a separate brush for basting meat and vegetables to avoid contamination.


Placing chunks of veggies on kabob skewers is always a fun way to both cook them and eat them … especially for the kids.


Corn is especially simple. Soak corn with husk intact in water for 30 minutes and then place on grill – husk and all.


Tender vegetables and fruit can be marinated and wrapped in tin foil and placed on the grill with low-medium heat for about ½ the time … zucchini, summer squash, and tomatoes are wonderful!


Try a variety of different marinades. Oil and vinegar seasoned with a variety of herbs such as rosemary, basil, oregano, or thyme provide an extra antioxidant kick. Wine, salsas, and sweet or tart marinades like pineapple and orange juice or lemon and lime juice provide a tasty alternative.
Enjoy!
| | | |
| --- | --- | --- |
| Related Articles: | | |
Our expert, Dr. Sharon E. Griffin, holds a B.S., M.S., and Ph.D. in the areas of exercise science/physiology. She also holds a second M.S. degree in Nutrition and is a licensed nutritionist and an ACSM certified health and fitness instructor.
© 2023 MyFoodDiary.com. All Rights Reserved.