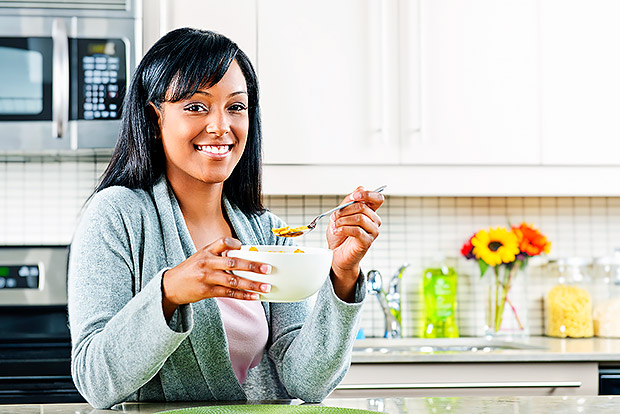 When it comes to reaching a healthy weight, eating breakfast every day is one habit that successful losers have in common. These quick ideas will get you going in the morning while keeping you on track to meet your daily calorie target.
Breakfast Quesadilla
295 calories
Spread 1 tablespoon of pesto over an 8-inch whole wheat tortilla. Place it in a non-stick skillet over medium heat. On one side of the tortilla, pile on 2 scrambled egg whites, a ½ cup of fresh spinach, and 2 tablespoons of shredded mozzarella cheese. Fold the tortilla in half and cook on each side until the cheese is melted and the tortilla is browned.
Quick Fruit and Nut Cereal
256 calories
In a single-serve bowl, add 1 cup of puffed brown rice cereal, 2 tablespoons of dried cranberries, and 2 tablespoons of raw pecans. Pour in a ½ cup of low-fat milk, and sprinkle with 1 teaspoon of brown sugar.
English Muffin Nut Butter Sandwich
245 calories
Toast 1 whole wheat English muffin. Spread 1 tablespoon of raw almond butter over one half. Cut off about ¼ of a whole pear and thinly slice it. Arrange the pear slices over the almond butter, and top with the other half of the toasted English muffin.
Apple Pie Cottage Cheese
255 calories
Add a ½ cup low-fat cottage cheese to a bowl. Top with a ½ cup of diced apple, and sprinkle on a pinch each of ground cinnamon, ground nutmeg, and ground cloves. Add 1 tablespoon of pure maple syrup and stir to combine. Top with 2 tablespoons of granola. If you don't like cottage cheese, substitute low-fat plain or vanilla yogurt.
Banana Berry Oatmeal
242 calories
In a microwave-safe dish, combine ½ cup of old-fashioned rolled oats, ¾ cup of water, a ½ of a banana, and a ½ cup of frozen blueberries, slightly thawed. Use a fork to mash the banana and berries into the oatmeal until they are evenly distributed. Microwave for 2-3 minutes until the oatmeal is bubbly. Add more water if you prefer a thinner oatmeal. The fruit should add plenty of sweetness, but you can sprinkle on 1 teaspoon of brown sugar for 15 more calories, if desired.