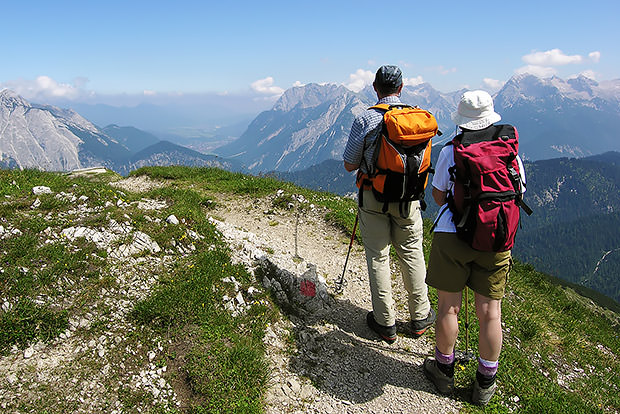 How you choose to spend your leisure time can make a big difference in your fitness level. These hobbies will keep you moving and get you excited about living a healthy lifestyle.
Outdoor Explorer
Hiking and camping are not activities for the couch potato. Carrying supplies, setting up camp, and exploring trails require at least a moderate level of fitness. The more challenging the hikes and the higher the elevation, the better shape you will need to be in. The calories you burn and the muscles you strengthen while exploring the outdoors will improve your physical health, but the mental break that nature provides will bring you back to your daily activities with a renewed spirit and a positive attitude.
Team Player
You don't have to leave recreational sports behind as you get older. Adult leagues for softball, soccer, volleyball, basketball, rowing, skating, and more can be found in most communities. Start by checking out your local office of Parks and Recreation. Spending a few hours a week playing a sport you enjoy allows you to get in exercise without a structured session at the gym.
Gardener
Whether you tend to flowers, herbs, or vegetables, gardening keeps you active mentally and physically. Research from Jill Litt, Ph.D. of the University of Colorado found that people who participate in community gardening cultivate relationships with their neighbors, have a more positive outlook on health, and eat better. Research also estimates that gardeners engage in 30% more exercise than non-gardeners. From planting to harvest, the tasks involved boost the number of daily calories you burn.
Historian
An interest in history doesn't mean you have to keep your nose in a book. Exploring historic monuments, visiting museums, and touring cities on foot are all ways to feed your passion while staying active.
Creative Cook
The desire to cook and enjoy delicious food does not have to guarantee weight gain. Healthy cooking classes can be found at local grocery stores, community centers, and universities. These classes will teach you how to use fresh fruits and vegetables, whole grains, and lean protein to create nutritious meals that you enjoy eating. Research shows that improving food and cooking skills may have a positive impact on food choices.
Volunteer
Active volunteering takes many forms. You can help out at a local charity fitness event, assist at clean-up days in your community, or work with youth. Anything that involves physical labor or recreational play will keep you moving and burn the calories needed for weight control.
Traveler
Traveling gives you a break from your normal routine which improves your attitude and renews motivation. It also provides plenty of opportunities to keep you active. Exploring parks, visiting tourist attractions, and browsing the local markets all contribute to active travel. If you are more adventurous, take things to the next level with hiking, rock climbing, or zipline tours.