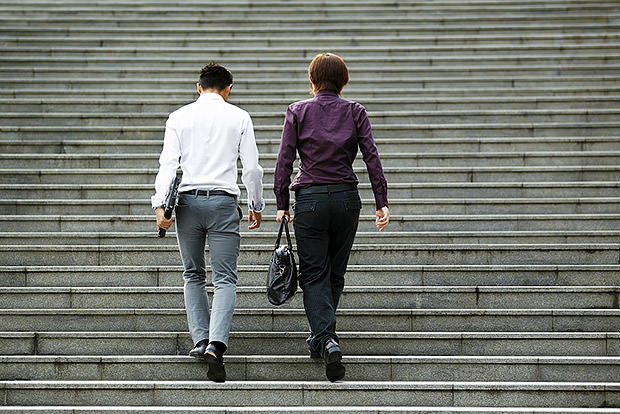 Walking meetings can add activity to your work day
Finding ways to incorporate more activity into your day is important for living a healthy lifestyle. Even the calories burned through the smallest activities add up to help you lose weight. Activity also refreshes you mentally to keep you sharp and alert as you plow through your to-do list. Create a more active lifestyle with some of these ideas.
Walking meetings
Take a break from the conference room and meet while on the move. A walking meeting burns calories, and the change in environment may spark some renewed creativity. Mobile devices make it easy to verbally document any notes. Those involved can return to the desk refreshed and ready to take on a new project.
Active commuting
You don't need to walk or bike to work every day to take advantage of active commuting. Try it twice a week. If walking or biking is out of the question, get creative with how you can make the commute more active. Can you park further away, walk to nearby meetings, or take the stairs?
Stretch breaks
Research shows that sitting for long periods may be bad for your long-term health, even if you work out. Get out of your chair for a stretch break at regular intervals throughout the day. Hold each stretch for 20 seconds while breathing deeply. Stretch all major muscle groups paying special attention to the areas most affected by long periods of sitting: the shoulders, lower back, and hamstrings.
Incorporate movement into sedentary activities
Some sedentary activities present opportunities to move more. As you watch your favorite television shows, try circuit workouts. Do strength exercises when the show is on and switch to cardio activities, like jumping jacks or walking stairs, during commercials.
Join a team and invite your friends
The time enjoyed with your friends doesn't have to be sedentary. Form a team and join the local softball, volleyball, or bowling league. If you aren't into competitive sports, get the group together for a hike or hit the water for a leisurely paddle in canoes or kayaks. These activities keep you active while you spend time catching up and creating great memories.
Sources