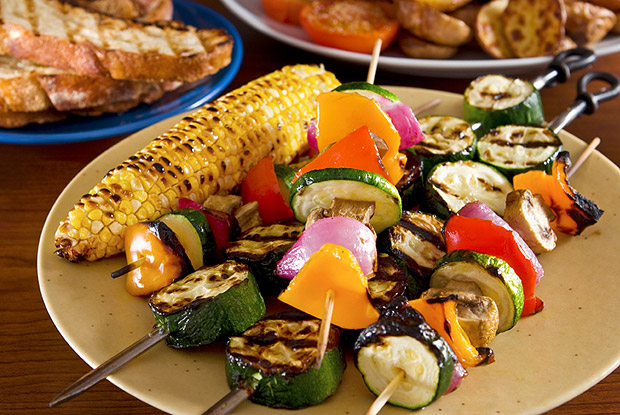 Dining outdoors with family and friends is one of the season's greatest pleasures, but too many high-calorie picnic foods can pack on the pounds. With the fresh, healthy foods available this time of year, there is no reason you have to go overboard on calories, fat, or sugar. With a few minor changes, you can lighten up recipes while increasing the flavor of your favorite picnic foods.
Use gourmet mustard in your mayonnaise-based salads.
Chicken salad, pasta salad, coleslaw, and potato salad are all known for being loaded with high-calorie mayonnaise. You can reduce the calories and enhance the flavors by substituting specialty mustard for part of the mayonnaise. One-half cup of mayonnaise contains 720 calories while ¼ cup of mayonnaise combined with ¼ cup of brown deli or Dijon mustard has only 420 calories. Beware of sweetened mustards like honey mustard, which has double the calories of unsweetened, gourmet varieties.
Double your veggies on kabobs.
Grilling kabobs is a great way to incorporate vegetables to reduce total calories and saturated fat. Layer 2 to 3 1-oz pieces of meat with whole mushrooms, thick slices of bell peppers, wedges of onion, chunks of zucchini, chunks of fresh pineapple, or pieces of eggplant.
Use more dry rubs than sauces.
Dry rubs can be applied to your meat before grilling to increase flavor and decrease the amount of sauce you use. Many barbecue sauces contain around 60 calories per 2 tablespoons, but some have as many as 16 grams of sugar in one serving, which is equal to 4 teaspoons of sugar! Combine 1 tablespoon of chili powder, 1 tablespoon of cumin, ½ teaspoon of salt, and 1 teaspoon of brown sugar. Rub it over two 4-oz chicken breasts before grilling.
Simplify your salads.
In an effort to make salads exciting, it's easy to get caught up in high-calorie ingredients and dressings. From green salads to pasta salads, extras such as cheese, dried fruits, nuts, and mayonnaise-based dressings can add excess calories and fat. Enjoy the flavors of the season, and cut calories by serving them without all of the extras. Caprese salad with 2 slices of tomato, 1 slice of fresh mozzarella, 2 basil leaves & 1 teaspoon olive oil has only 164 calories. A cucumber melon salad with a ½ cup chopped cantaloupe, a ¼ cup chopped cucumber, and 2 leaves minced fresh mint has only 31 calories.
Grill fruit for dessert.
Grilling fruit caramelizes the natural sugars making it a healthy dessert that will satisfy your sweet tooth. Grill peach halves, large pieces of pineapple, or plum halves, and sprinkle with cinnamon. You can also slide large chunks of different fruits onto skewers before grilling. If you've saved calories, serve grilled fruit with a small portion of ice cream. Half of a grilled peach with a ½ cup of vanilla ice cream has just 174 calories.