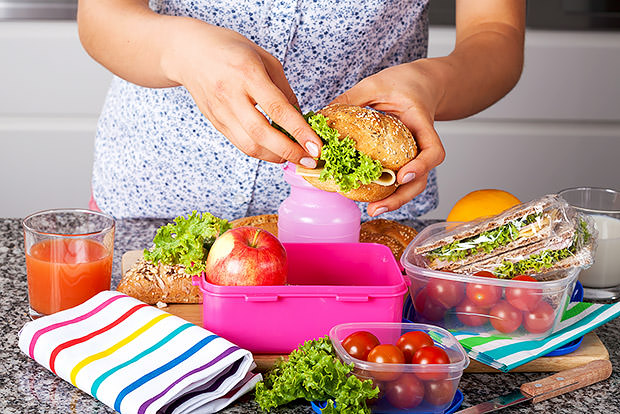 Committing to take your lunch to school or work every day is just one step in the right direction. Once lunch time arrives, the meal needs to be appealing so that you won't pass on it in favor of going out, and it should also be balanced in nutrients to keep your energy up throughout the afternoon. Here are a few tips to help you pack a healthy lunch that you will enjoy eating.
Pack a filling meal.
Taking a small lunch in an effort to save calories is a plan that can backfire. Your hunger may overwhelm you soon after the meal. Take enough food so that you feel comfortably full after eating. Choose foods that supply protein, fiber, and healthy fat. They will take longer to digest, keeping you full and satisfied. They will also help to sustain energy levels longer than a meal filled with simple carbohydrates.
Add variety.
Include something new in your lunch at least once per week. Try an exotic fruit or splurge on a infused-olive oil for your salad. Eating healthy food should be something you look forward to. Adding variety to your meals makes you less likely to be tempted by unhealthy options.
Keep it balanced.
As you pack your lunch, keep a mental list of all of the components of food that benefit your health -- protein, carbohydrates, fiber, healthy fat, vitamins, minerals, and plant phytochemicals. Select combinations of foods that will supply all of these beneficial nutrients. The more balanced your meals, the greater your food variety and the more nourished your body will be.
Satisfy cravings.
Include some foods that will help satisfy cravings and keep you from mindlessly snacking throughout the afternoon. Include a small square of dark chocolate or a mixed fruit salad for dessert. Instead of chips, satisfy your craving for something crunchy and salty with lightly salted air-popped popcorn or roasted chickpeas.
Make it interesting.
Most importantly, pack a lunch that you want to eat. A bland salad may make you feel like you are being good, but if you don't enjoy it, a coworker's offer to split her high-calorie take-out may be difficult to pass up. Pack food that is interesting and appealing. If you want to stick with a salad, dress it up with shredded cabbage, bok choy, fresh fruit, beans, colorful heirloom cherry tomatoes, and sunflower seeds. If you feel like you are in a lunch rut, try some of these ideas.
Make a wrap with bean spread.
Prep a burrito bowl the night before and reheat it at the office.
Load up a pasta salad with all your favorite vegetables and beans.
Hollow out small tomatoes and fill them with tuna salad.
Make a sushi bowl with brown rice, vegetables and smoked salmon.
Make a stew with white beans, quinoa, vegetables and your favorite herbs and spices.