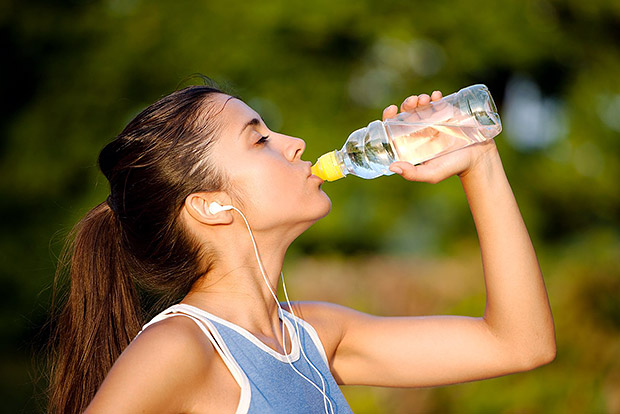 As the weather improves, it's time to add variety to your fitness routine by taking some workouts outside. It's easy to transition from indoor to outdoor exercise, but the weather and type of exercise you choose determine what you need for a safe and effective workout. Take time to prepare for your outdoor exercise.
Stay hydrated.
The heat, humidity, and increased sweating makes dehydration a greater risk during outdoor activities. Hiking, long runs, and bike rides can also take you further from a water source. Hydration needs vary from person to person, but the American College of Sports Medicine (ACSM) offers general guidelines for fluid intake . Drink 16-20 ounces at least four hours before exercise, and drink 8-12 ounces 10-15 minutes before exercise. During exercise, drink 3-8 ounces every 15-20 minutes. After your workout, drink 20-24 ounces of fluid for every pound lost. A sports beverage may be necessary during exercise for durations over 60 minutes. The ACSM recommends not exceeding 1 quart of fluid per hour during exercise. Be sure to pack enough water to meet these guidelines when you set out for longer duration activities like hikes and bike rides.
Dress for exercise success.
Moisture-wicking clothing is essential for outdoor exercise whether the conditions are cool, hot, or humid. Unlike cotton that can trap heat and moisture, this exercise clothing keeps you dry and cool which helps to prevent overheating. From shirts and shorts to hats and socks, be sure you have the clothing you need to perform well during your workout.
Protect yourself.
Outdoor exercise requires sunscreen to protect your skin from sun damage. Look for sweatproof varieties that are designed for outdoor exercise. The American Academy of Dermatology recommends a broad-spectrum sunscreen with a sun protection factor (SPF) of 30 or greater. Be sure to cover all exposed skin, and don't forget sunscreen for your lips and exposed scalp. Also remember those areas you might expose as you heat up, like your shoulders if you roll up shirt sleeves, or the lower legs if you remove the bottom portion of hiking pants.
Assess your footwear.
Depending on the type of exercise you choose, your footwear requirements may change when transitioning from indoor to outdoor exercise. For example, hiking or trail running requires a sturdy shoe designed for the activity, instead of a standard running or walking shoe that is meant for the road or treadmill.
Take it slow.
Outdoor activities can be more challenging than the activities you are used to in the gym. Hills, rough terrain, wind, and warmer temperatures can make even a simple walk more difficult. Don't get discouraged if you struggle to complete the same distance or workout time once you are outside. Do what you can, and gradually increase the time and intensity each week until you reach your goals.
Sources