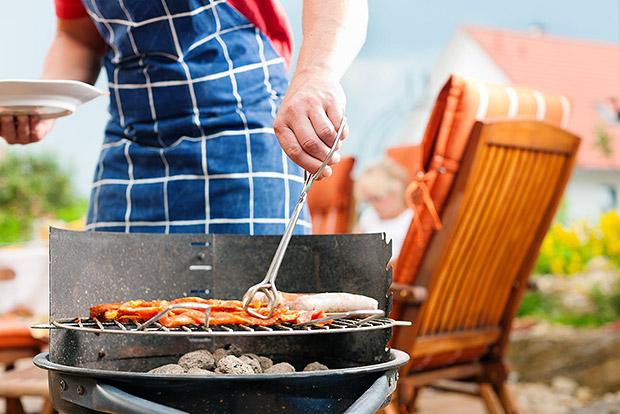 As seasons change, you may notice a change in your eating and exercise habits. While some of these changes are positive, others can have a negative impact on your choices and lead to unwanted weight gain.
Summer
Summer is a season of fresh, nutritious foods, but a few things may work against your healthy intentions. Backyard barbecues can tempt you with high-calorie burgers, hot dogs, chips, and ice cream. Local fairs and festivals offer deep fried foods and high-sugar desserts. It can be difficult to pass up these once-a-year treats.
Summer can also make it harder to stick to your workouts. Hot temperatures and humidity can leave you feeling lethargic and make it unsafe to exercise outside.
What to do: Be selective about the foods you eat. Choose only those that are true treats, and take the time to savor them. Make a plan for workouts at home or consider a temporary gym membership so you don't abandon your workouts due to a hot day.
Autumn
Autumn brings cooler temperatures that are ideal for outdoor activities such as hiking and biking. Unfortunately, it is also a busy time of year for families. As you adjust to the back-to-school season, you may feel overwhelmed with little time to be active. The extra stress can lead to emotional eating, little exercise, and poor nutrition.
What to do: Find healthy ways to control stress and make those activities a priority. Even 10 minutes of meditation or yoga each morning can set the tone for a healthier day. Get outside when you can. Being in nature is calm and relaxing, which also reduces stress.
Winter
When winter hits, the cravings for high-carbohydrate comfort foods come with it. With fewer fresh foods available, you may fall into a rut with food choices and be tempted by unhealthy comfort foods. As the weeks move into the holiday season, temptations for unhealthy food grows and stress can increase emotional eating. Additionally, shorter days and cold temperatures make squeezing in your workouts more challenging.
What to do: Don't let the holiday season sneak up on you. Make a plan and apply it as early as October. Choose when you will stick to healthy eating and what is worth a splurge. Plan for a busy schedule and how you will adjust your workouts. Find ways to make your favorite comfort foods healthier by incorporating more vegetables and fewer heavy creams and sauces.
Spring
As you transition out of a long winter, spring weather can be a motivating force to eat healthier and to get moving, but one thing could get you off track. After three months of sticking to your new year's resolutions it may be tempting to give up, especially if you aren't seeing the changes you expected. Heading into spring feeling discouraged may prevent you from taking advantage of outdoor workouts and seasonal fresh foods, and cause you to return to old habits.
What to do: Reevaluate your resolutions. Check your progress, and if you aren't where you want to be, determine if your goals are on track. Perhaps you are expecting too many changes too soon or you are forcing yourself to do an activity you don't enjoy. If your goals are no longer working, set new ones. Change up your routine to keep both your eating and exercise interesting and exciting.