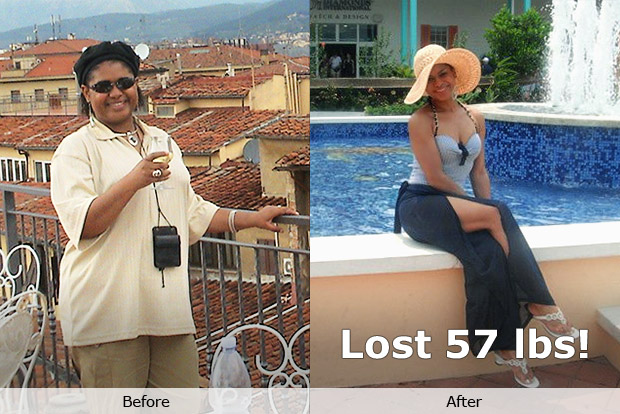 Surround yourself with cheerleaders who are supportive of your weight loss journey. ~ Liz lost 59 lbs.
Whether it is family, friends, or coworkers, research shows that finding like-minded people who support your weight loss goals will help keep you on track. Research also shows that both in-person meetings and electronic communication (text messages and social media) are effective for motivation. The MyFoodDiary forum is a place where many of our successful members meet to support each other in fitness.


There will be times when you want to throw in the towel and revert back to your old ways. But remember that you are worthy and deserving of being healthy and fit. ~ Sabrina lost 57 lbs.
Body image and self-esteem play a significant role in your weight loss. Believing that you can succeed, and believing that you deserve to succeed, are the first steps to making lasting changes. Make a plan for how you will overcome unwelcomed feelings of discouragement and self-doubt while working to reach your healthy weight.


Splurge on occasion. There are some folks that say you shouldn't reward yourself with food. I think the occasional reward is healthy. ~ Steve lost 125 lbs.
Many nutrition professionals advocate the 80/20 rule when it comes to healthy eating. Enjoy a nutritious diet 80 percent of the time, and 20 percent of the time you can incorporate some of your favorite treats. Do this while also staying near your target calorie goal and exercising regularly. When you allow yourself to enjoy your favorite foods in moderation, you avoid feeling deprived.


Learn to make your favorite recipes with healthier options, and use portion control when it comes to those foods that may not be the best choice. ~ Dave and Laura lost 199 lbs together.
Knowledge is a key component of successful weight loss. Understanding proper portion sizes, how to measure your food, and how to read food labels will help you gain better control of your food intake. Learning to cook your favorite foods and tweaking recipes to make them more nutritious will help reduce cravings for unhealthy alternatives.


Remember, you are not DIETING. You are making a lifestyle change. ~ Kim lost 46 lbs.
You will only stick with healthy habits once they become a natural part of your day-to-day life. View that salad at lunch and the cookie you skipped mid-afternoon as part of your healthy lifestyle, not because you are on a diet. Diets are short term. Healthy lifestyle changes set you up for long term success.


It takes only 60 minutes a day to exercise. It is a perfect time to concentrate on yourself and express your love for life. ~ Stacey lost 47 lbs.
Change how you view exercise. Whenever you talk about your workouts, use the phrase, "I get to," and not the phrase, "I have to." It may feel silly at first, but when you consider exercise a privilege and not a chore, it becomes something that you look forward to.


Be open to giving different exercise options a try and join a fitness facility if you are able. I have found that connecting with individuals at the club keeps me accountable and engaged. Surround yourself with active people! ~ Judy lost 52 lbs.
The only way you will stick with exercise is if it's activity that you enjoy. Don't limit yourself to two or three options. Make it a goal to incorporate a new activity every two to three months. Take advantage of the season and train to walk a 5K in the spring, swim in the summer, hike in the fall, or snowshoe in the winter. If you know change is right around the corner, exercise will always feel fresh and new.