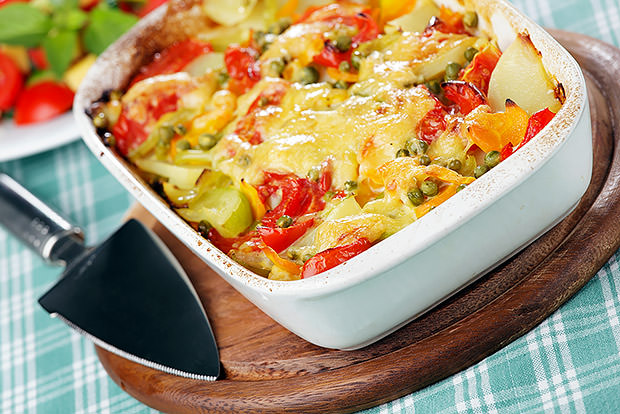 Comfort foods are known for being high in refined carbohydrates, calories, and unhealthy fat. Simple changes to your favorite recipes allows you to enjoy these foods while sticking to your eating plan.
Select low-sodium and unsalted stocks and broths.
Broths and stocks are a staple ingredient in soups, stews, and some casseroles. Packaged stock can be loaded with sodium with one cup containing as much as 510 milligrams. You can cut the sodium by several hundred milligrams by substituting low-sodium or unsalted stocks. Most recipes call for table salt on top of these ingredients, so you won't notice a big difference in the taste.
Reduce the cheese.
Cheesy toppings on casseroles, potatoes, and pizza are hard to resist, but cutting back can reduce your calorie and fat intake. Some recipes like lasagna and scalloped potatoes use so much cheese that you won't notice if you reduce the total amount. Begin by reducing what you use in the recipe by an ounce or two, or ¼ cup. As you get used to the new way of preparing the recipe, you can try to cut back even more.
Add shredded vegetables.
While the addition of vegetables to a dessert or casserole won't automatically make it healthy, it can add fiber and vitamins. In baked goods, vegetables can also provide moisture that may allow you to cut back on added oils or milk. Shredded zucchini, carrots, and parsnips go well in cakes, quick breads, and brownies. Finely shredded cabbage can be added to meat fillings and sauces. Finely chopped dark leafy greens can be added to baked casseroles from mac and cheese to lasagna.
Use dark chocolate.
The heart health benefits of dark chocolate are still well supported by research making it an ideal option to satisfy a sweet tooth. While a square of dark chocolate may be the healthiest choice, when you splurge on comfort foods like cookies and brownies give them a slight nutritional boost by sticking with dark chocolate of at least 60 percent cacao. Darker chocolate has less fat and sugar as well as more of the disease fighting antioxidants that contribute to chocolate's health benefits.
Use alternative flours.
Flour is often used in coatings for fried chicken and fish, in crumb toppings for desserts, and as a thickener for cream sauces. Nut flours and alternative grain flours (amaranth, teff, oat bran) won't always decrease total calories, but they do supply a unique set of nutrients from protein to vitamins and minerals. Experiment with substituting these flours as well as 100 percent whole wheat flour in recipes that call for refined white flour.
Layer in vegetables.
Vegetables like summer squash, eggplant, and sweet potato can be sliced thin and added to casseroles. These additions can serve as substitutes for some of the noodles in lasagna, and they add a nutritional boost. Cauliflower and broccoli can be chopped fine and layered into casseroles and quiche to give you an extra serving of vegetables with the meal.
Make stock-based sauces.
Comfort foods like macaroni and cheese and creamy soups use heavy cream to create the sauces. You can reduce the fat and calorie content by using chicken or vegetable stock in place of the cream. The stock will often thicken just as well as cream when combined with flour and butter for the roux. Just be sure to select low-sodium or no-salt-added stocks because store-bought varieties are often high in sodium.
Use lean meats and vegetable substitutes.
When recipes call for ground beef, you can reduce fat and calories by choosing lean cuts such as ground round and ground sirloin, or by using ground chicken or turkey breast. You can also use smaller amounts of meat by adding diced mushrooms and greens like kale, or replace the meat altogether with these ingredients as well as beans.
Bake it.
It is surprising how delicious baked versions of your favorite comfort foods can be. When baked at high heat, fresh-cut fries brown nicely with crispy edges. Fish and chicken can be coated in nut meal or whole wheat bread crumbs and baked until browned. Pastries like yeast and cake donuts can be baked using a sheet pan or a donut pan, reducing the total fat content compared to frying in oil.
Sources