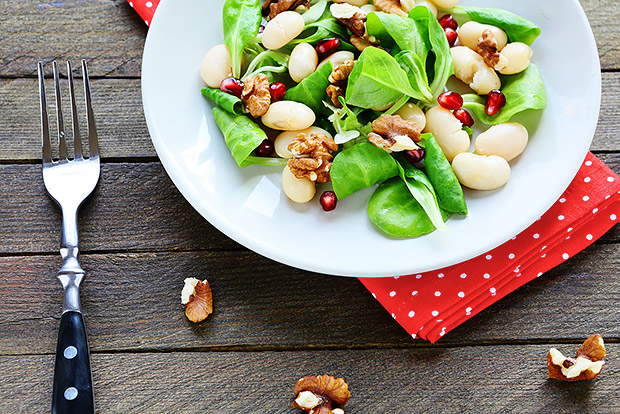 A salad shouldn't make you feel like you are eating rabbit food, nor should it be so loaded with fat and calories that it is no longer nutritious. A healthy salad is one that is hearty enough to keep you feeling full, but also balanced in important nutrients. As you build a healthy salad, keep these five components in mind.
Greens
The base of your salad should be full of vitamin-rich greens, but think beyond lettuce and spinach. From the peppery to the slightly bitter, greens can give your salads a mix of flavors that make the meal more enjoyable. A variety of greens also offers diverse plant nutrients that act as antioxidants and dietary fiber that fills you up. In addition to your favorite lettuce or spinach, add baby arugula, chopped bok choy, sliced chard, sliced kale, frisse, chopped radicchio, or shredded cabbage.
Grains
Grains don't have to overtake other ingredients, but about ¼ cup of cooked grains sprinkled over the greens adds texture and an earthy or nutty flavor. Depending on the grains you choose, you will also increase the vitamins, minerals, and fiber in your salad. Try cooked barley, brown rice, pearl couscous, quinoa, or wheat berries.
Protein
While the focus of your salad is the vegetables, high-quality protein fulfills your nutrient needs and keeps you feeling full. Add a chicken breast, roasted turkey, grilled salmon, canned tuna, beans, lentils, or tofu.
Nutritious Extras
Choose smart extras for your salads that add flavor and nutrients without excess calories or added sugar. Sliced mushrooms boost vitamin D, diced bell peppers contain vitamin C, chopped fresh berries and sliced red onions are rich in antioxidants, cruciferous vegetables (such as cauliflower and broccoli) have cancer-fighting nutrients, and carrots supply vitamin A.
Healthy Fat for Flavor
Healthy fat serves two purposes on a salad: 1) it helps the body absorb fat soluble vitamins, and 2) it adds flavor. The fat in your salad can come from an olive oil-based dressing, diced avocado, nuts, or seeds. If you like cheese, choose high-quality, unprocessed varieties. These cheeses are rich and satisfying allowing you to add just a sprinkle of feta or crumbled blue cheese for flavor without overloading the salad with calories and fat. Check nutrition labels closely as dressings, nuts, and seeds are often high in sodium. Make your own dressings and pick dry roasted, unsalted nuts and seeds.