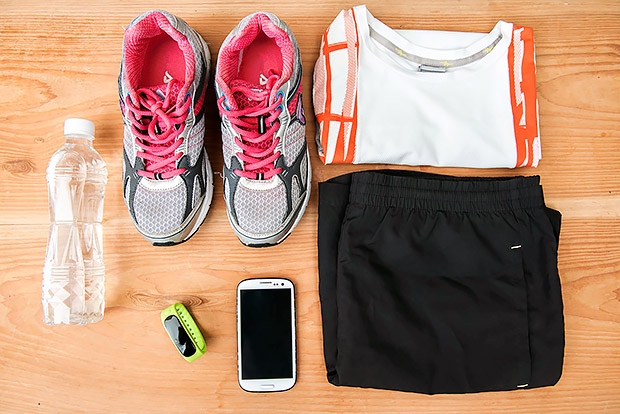 Athletic shoes and socks
If there is one thing to invest in before starting your exercise program, make it your shoes. Quality athletic shoes that fit your feet well and that are designed for your activity can help reduce the risk of pain and injury. In addition to shoes, also consider your socks. Athletic socks that wick moisture are affordable, and they can help you ward off common issues such as blisters.
Comfortable clothing
The number one priority of your exercise clothing is that it should be comfortable, but don't confuse comfortable with loose and baggy. Big tee shirts and sweatpants may seem like a good choice, but they can get in the way of your workout. Most are also made of cotton, which traps heat and moisture causing you to overheat. Spandex is not a requirement, but more form fitting clothing that wicks moisture and allows you to move easily is ideal.
Tracking tools
Fitness involves more than just your weight, so determine how you will measure your progress before you start your program. Waist circumference, body mass index, blood pressure , and body fat are all components of fitness that you can track. Gather your initial data, and enter it into your MyFoodDiary account. Track your progress at regular intervals such as every month or every three months to make sure you are getting the results to meet your goals.
Stopwatch
Your interval training, circuit workouts, and front planks will be simple to track with an inexpensive stopwatch.
Mat
Floor exercises like push-ups, crunches, and yoga poses are effective exercises. While they don't require equipment, a mat will make them much more comfortable. Mats provide some cushioning for your back on hard floors, but you can also double up the layers to protect your knees during modified push-ups or use it as a bolster to sit on during yoga.
Water bottle
Hydration helps you perform better during exercise, so keep a water bottle handy throughout your workout. Select one that is easy to use while in motion, and consider an insulated version to keep your drink cool.