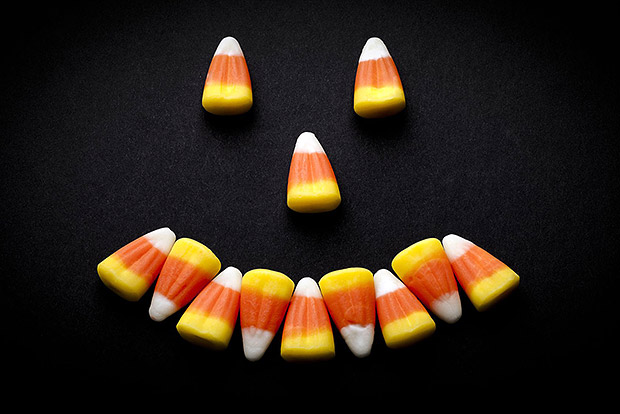 You don't have to deprive yourself on special occasions. It's possible to enjoy a treat and satisfy your sweet tooth without going overboard. The key is to find a few favorite sweets and identify appropriate portions. These Halloween candies contain fewer calories than other tempting options available this time of year.
Candy Corn
Candy corn is a classic Halloween treat and one that you may only be able to get this time of year. Fortunately, you can enjoy a good-sized portion of this treat without ruining your eating plan. Twenty-two candy corns contain 140 calories.
SweeTarts and Smarties
Fruity confections like SweeTarts and Smarties contain sugar, but because they have less fat than other treats, they also contain fewer calories. One pouch of mini chewy SweeTarts contain 35 calories and 15 Smarties tablets have only 25 calories.
Mini dark chocolate bars
Nuts, caramels and nougat only add extra calories and fat to candy bars, so reach for the solid chocolate. Choosing a mini version will help you control portions. Two Special Dark Hershey's Miniatures contain 76 calories.
Mini peanut butter cups
If you want something with a filling, the sweet and salty combination of a mini peanut butter cup can satisfy most cravings. Their small size allows you to enjoy a few without blowing your calorie budget. Three Reese's Miniature Peanut Butter Cups contain 108 calories.
Tootsie rolls
Toostie rolls are chocolatey and chewy making them ideal when you want a treat that is similar to high-calorie taffy or fudge. Twelve small Tootsie Roll pieces contain 130 calories.
Gummy bears
Gummy bears can be a good option when your idea of a treat is something fruity and chewy. Their texture can also slow you down as you eat them, allowing for a more mindful snack. Fourteen gummy bears contain 140 calories.