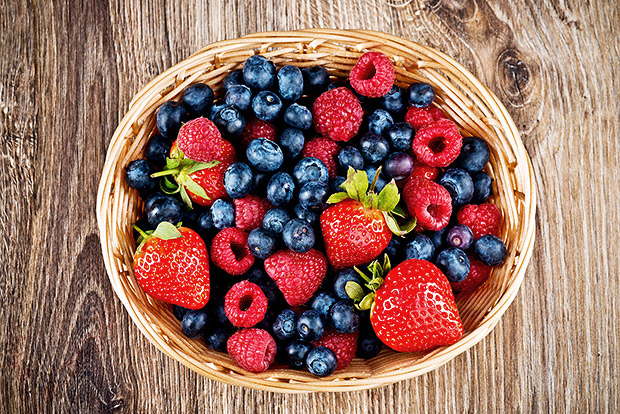 Berries
Berries are one of the most fragile fruits, and moisture can cause them to spoil quickly. It is best to store them unwashed and rinse them under cold running water just before eating. Discard any damaged or spoiled berries before storing. Give your berries more space by removing them from the packaging and placing them in a single layer in a loosely covered shallow container. Most types of berries will last 2 to 3 days in the refrigerator.
Whole Grains
Whole grains still contain the germ, which is the portion of the grain with healthy oils. The presence of the germ makes the grains sensitive to heat, light, and moisture. According to the Whole Grains Council, grains like wheat berries and rice last longer than grains that have been ground into flours. Both whole grains and flours should be stored in an airtight container away from light and heat. Most grains will last six months in the pantry or a year in the freezer. Flours and meals will keep for 1 to 3 months in the pantry and 2 to 6 months when stored in the freezer.
Oils
Unrefined oils, like extra virgin olive oil and nut oils, are sensitive to air, light, and heat. When exposed, the fatty acids can turn rancid, causing an unpleasant flavor. Store olive oil in a dark, cool place. Unopened bottles will last for a year. Once you open it, most varieties will last for six months. Nut and seed oils are even more sensitive than olive oil, so store oils like sesame and walnut in the refrigerator for up to six months.
Onions
Like most root vegetables, onions should be stored in a well-ventilated, cool, dry place. Onions need air movement to stay fresh, so take them out of plastic bags before storing. The sweeter an onion, the higher its water content. This influences how easily it bruises and how long it will stay fresh. As a result, sweet onions like Walla Walla and Vidalia may have a shorter shelf life than other varieties. The National Onion Association suggests wrapping these onions in a paper towel or newspaper and storing them in the refrigerator to extend the shelf life. Once peeled, all onions should be stored in a sealed container in the fridge. Chopped or sliced onions will last 7 to 10 days.
Sweet Potatoes
Refrigeration will cause sweet potatoes to harden in the center and develop a bad taste. Place sweet potatoes in a well-ventilated container set in a cool, dry place. A basement or root cellar is ideal, but simply keeping the potatoes away from heat will help extend their freshness. According to the North Carolina Sweet Potato Commission, when properly stored, sweet potatoes will stay fresh for up to 2 weeks.
Tomatoes
Ripe tomatoes are best eaten within 2 to 3 days after purchase. Store tomatoes at the coolest room temperature possible with the stem-side facing up, away from direct sunlight. Generally, storing tomatoes in the refrigerator can cause them to lose flavor. But according to the Division of Agriculture at the University of California Davis, if you have ripe tomatoes that you aren't ready to eat, you can delay over-ripening by placing them in the refrigerator for fewer than three days. Allow refrigerated tomatoes to sit at room temperature for an hour before eating to help improve the flavor.
Sources