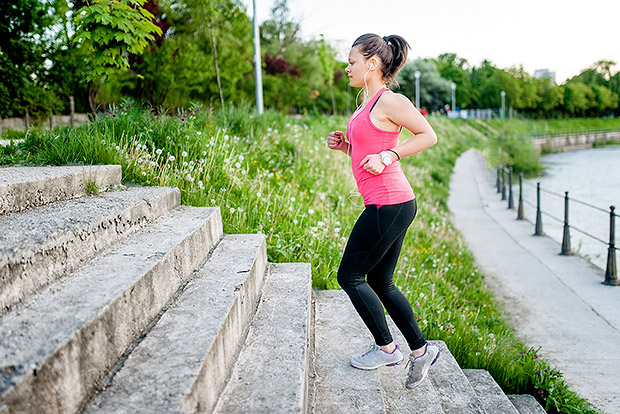 A healthy lifestyle is a long-term commitment and once you reach your weight loss goal, your good habits must continue. Stick with your nutritious eating and activity, and take note of these tips to keep the weight off for good.
Stay Active
Exercise is key for maintaining weight loss. Regular activity keeps you fit by building and maintaining muscle and keeping your heart healthy. As your weight changes, so do your daily calorie needs. Exercise will help you maintain the balance between calorie intake and output. Just like the weight loss process, weight maintenance also has it's emotional ups and downs. You will have stressful days and motivating days. Exercise relieves stress, lifts your mood, and gives you a more positive outlook.
Keep Tracking
Tracking your food intake and exercise is as important after you reach your goal as it was when you were losing weight. What may change is how, when, and what you track. For example, perhaps you have no problem eating healthy on weekdays, but struggle on the weekend. You can transition to recording your food intake on days when you need extra motivation to stay committed. Now that the weight is off maybe you've set a goal of running a distance race. Your exercise tracking will likely transition from minutes to miles. It's also important to keep tabs on your weight and record it regularly. According to the National Weight Control Registry (NWCR), 75 percent of those who have successfully maintained weight loss weigh themselves weekly.
Eat a Morning Meal
According to the NWCR, 78 percent of those successful at maintaining weight loss eat a healthy breakfast each day. But don't let the word breakfast define your meal. You simply need a healthy, balanced meal. If you prefer a quick smoothie, drink up. If last night's leftover roasted chicken salad sounds good, grab a fork. Avoid letting labels define what you should eat and when you should eat it. Choose healthy foods and eat what will satisfy you.
Plan for the Weekend
The weekends are often the most challenging time because you are faced with a more relaxed schedule and opportunities to dine out and attend parties. There is no need to eliminate all treats or skip out on fun occasions. Just plan for them. Adjust your food intake before and after a special occasion. Instead of resting on the weekends, consider moving your rest day to a week day. Use the weekends for longer workouts or more challenging activities that will boost calorie burn. These workouts will help offset some of the extra weekend calories you consume when you stray from a strict eating plan.
Don't Get in a Rut
Regardless of your stage of weight loss, there is a risk of falling into a rut. This is especially true during the maintenance phase as you find the right eating and exercise plan for your new weight. Often when we find a breakfast or lunch that works and we eat it over and over again. The same goes for a workout time or activity. Before you know it, you are burned out and the temptation of a high-calorie food or skipping a workout become too great to resist. Adapting your plan, incorporating new foods, and trying new activities is an ongoing process when you live a healthy lifestyle. Excitement and positive change are the keys to staying motivated.
Sources