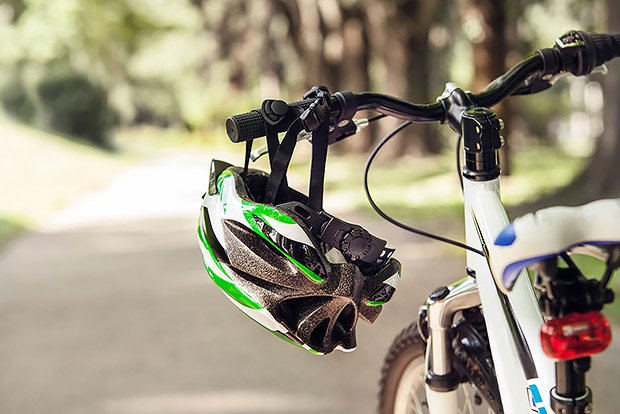 Whether you are on the road, a sidewalk, or a trail, it's important to take responsibility for your own safety when exercising outdoors. Put these tips into practice every time you hit the pavement for a workout.
Research your route.
Pedestrian and bike routes can change drastically within a short distance. Sidewalks end, trails have long stretches with no cooling shade, and residential neighborhoods can lead to industrial areas that are not ideal for pedestrian traffic. Take some time to research your route before you head out the door. Have a distance or time goal in mind, and make sure your route will allow you to reach this goal without putting you in danger.
Be visible at dusk and dawn.
You may feel that you are highly visible on the road, but that is not always the case from the perspective of a driver. The rising or setting sun can obstruct vision and cell phones can cause distractions. Stay alert of your surroundings and always ensure that a driver sees you and stops completely before crossing an intersection. This is especially important at dusk or dawn when visibility is reduced. Use appropriate lighting on bikes, dress in bright colors, and add some reflective or lighting gear like a reflective vest or a headlamp.
Follow the rules of the road.
It's important to follow bike and pedestrian rules for the road. If you are new to outdoor exercise, take an instructional course in your area. When walking or jogging on sidewalks, moving in either direction is acceptable. When biking on the road, travel in the same direction as traffic. When walking or running on the road, move against the flow of traffic so that you are facing oncoming vehicles. These directional rules may seem unimportant if you are going a short distance or exercising in a quiet area, but stick to them. When you travel in the wrong direction you disrupt the flow of both pedestrian and vehicle traffic, putting your safety and the safety of others at risk.
Stay alert.
Listening to music can be motivating and a phone conversation can pass the time, but these activities distract you from your surroundings. A quick reaction is often all that is needed to avoid a serious accident. When you are distracted, you reduce your ability to react quickly. When music is loud, you can't hear a honking horn, and deep conversation can prevent you from taking a good look around before you cross a street. Stay focused on your activity and your surroundings to increase safety on the road.