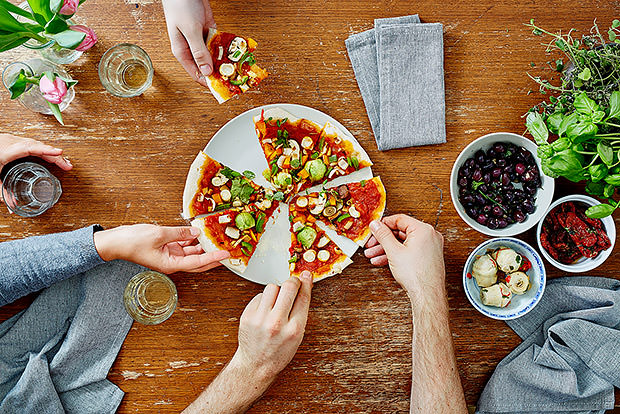 Drink water.
Sodas and other high calorie drinks increase the calories of your meal without giving you the enjoyment of eating food. A 20-ounce soda contains about 260 calories and a large sweetened iced tea contains 220. If you get refills, those numbers will climb. What's worse is that they are consumed mindlessly while eating so it is easy to lose track of how many calories you have consumed. Focus on your food during meals and drink water. If you really enjoy sodas or sweetened iced tea, enjoy them in moderation as a treat and not as something to wash down food.
Choose an appetizer or dessert, not both.
It's tempting to go all out at your favorite restaurant, but ordering three or four courses leads to too much food and calorie overload. Decide which is more important to you and choose one or the other. Doing so will save you at least 100 calories and more likely 300 to 500.
Pick the salad bar.
While buffets are usually frowned upon for portion control, a salad bar can help you enjoy a healthier meal. Make your own salad and add extra vegetables and protein sources like beans. Having control over the dressing is also a good way to save calories. The ladles on the bar usually hold from two to six tablespoons with the average ladle holding four. Stick to half a ladle and you'll save at least 100 calories for most dressings.
Steer clear of casseroles.
Restaurants provide a variety of side dishes and often at least one plain vegetable. Choose these steamed veggies instead of vegetables that have been added to an au gratin or casserole. Pick the steamed broccoli over broccoli casserole as a side, and you can save over 150 calories.
Substitute your sides.
Even if it costs you an extra dollar or two, substituting a healthier side is always a good option. Ordering a plain baked sweet potato instead of sweet potato fries saves as much as 460 calories depending on the restaurant. Swap a side salad for those fries and you'll save that much too, assuming you go easy on the dressing.
Leave off the sauce.
A sandwich can be a healthy option, but it's not uncommon for a large sandwich to be topped with ¼ cup of sauce or dressing. Ask for thousand island dressing, cheese sauce, barbecue sauce, or ranch on the side. This way you can add just a little for flavor and not drown your dinner. A ¼-cup serving of thousand island dressing has 220 calories. If you add just a tablespoon, you will save 165 calories.
Take off the top bun.
Specialty rolls like croissants, bagels, ciabatta, and hoagie buns can be loaded with calories. For example, a ciabatta sandwich roll contains 340 calories. Take off the top bun, eat your sandwich open-faced, and you will cut your meal by 170 calories.
Choose vegetarian versions carefully.
Some veggie sandwiches, burgers, and pasta dishes provide healthier choices, but don't assume that just because it is vegetarian that it is healthy. These foods can contain the same sauces, cheeses, and buns as those with meat. For example, a grilled portobello burger contains 540 calories. Order the sauce on the side, leave off the cheese and take off the top bun and you can save well over 100 calories.
Mentally portion your meal.
Restaurant portions are large, and while choosing a half order or a lunch portion will help, when this isn't an option you are left to control portions yourself. Get familiar with what one ounce of meat or one serving of pasta looks like. Use this to mentally portion your meal so you know how much food is too much. If the so-called individual pizza you order contains 1000 calories and you divide it into quarters, you'll save 250 calories by only eating three quarters of it and saving the rest for leftovers.