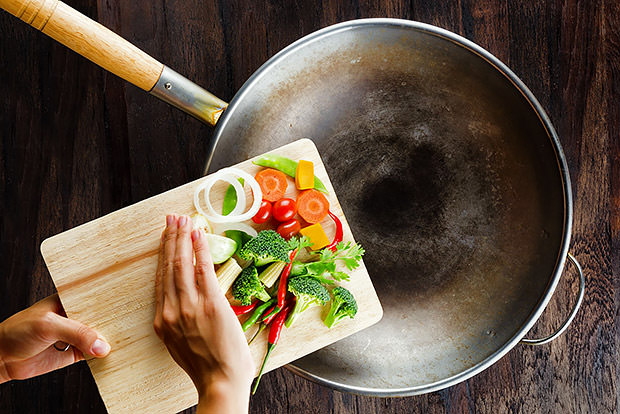 Cooking your meals gives you better control of your nutrient intake, but it can be time- consuming. Don't give up! You can get wholesome, nutritious food on the table with these shortcuts for healthy cooking.
Prep when you return from the store.
As soon as you unpack your groceries, grab the cutting board, knives and storage containers. Half of cooking is preparation, and you can save time on a busy night by having your ingredients ready to go. It is true that some fruits and vegetables may lose nutrients when they are cut, but this approach is better than swinging in the drive-through when you are pressed for time.
Chop up bell peppers and onions to make fajitas. Make cucumber slices, carrot sticks and celery sticks to snack on with hummus or Greek yogurt dip. Chop up mixed greens and store them in a bowl for quick salads throughout the week. Cut broccoli, cauliflower and Brussels sprouts so you can quickly season and roast them for an easy side dish.
Rinse away sodium in canned foods.
Canned foods make cooking easier, but excess sodium in beans and vegetables can be a problem. Rinsing canned foods and draining the liquid can drastically cut the sodium levels. Research shows that rinsing canned beans can reduce the sodium content up to 40 percent.
Get a spray bottle for oils.
When heart-healthy oils are turned into a spray, they can be used in many different ways. Spray oils can be used to lightly dress salads, to coat vegetables before roasting, and to grease casserole dishes and muffin pans. Invest in a spray bottle with a pump that allows you to turn your favorite healthy oil into an easy-to-spray mist.
Buy pre-chopped toppings.
Toppings like nuts and dried fruits add flavor without excess calories when they are finely chopped and evenly distributed throughout your salad or side dish. Look for pre-chopped versions of these ingredients to save time during cooking.
Make the sides.
Side dishes provide an opportunity to boost your nutrient intake. If you are pressed for time, consider turning to a pre-made main course. Many delis carry pre-made burgers, veggie patties, and rotisserie chicken. Check ingredient lists to make sure these foods are not loaded with unhealthy ingredients, but otherwise, this little bit of help can save you time in the kitchen. Once the main course is taken care of, you can concentrate on making fresh greens, roasted vegetables and cold grain salads to keep your meals packed with nutrients.