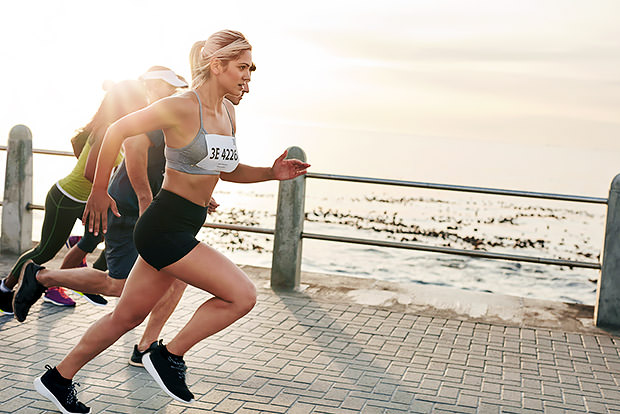 Whether it is a 5K or a full marathon, it's important to be prepared before registering for a road race. Minor details that you might overlook can have a big impact on your training and race day performance. Consider these five things to ensure you are ready to cross that finish line.
Do you have enough time to train?
Don't underestimate the amount of time it will take you to train, especially if you are new to distance running. 5K training programs last between 8 and 10 weeks, half marathon programs are often 12 weeks, and full marathon programs are 18 weeks or longer. How long it takes you to accomplish the distance depends on your fitness level and experience. Allowing yourself plenty of time to prepare will ensure that you will be fit enough to endure the race and recover well afterwards.
Are you ready for the course?
The mileage is only one part of the race. The type of terrain influences the difficulty. You might be in shape for a half marathon on a flat course, but a hilly course may have you walking more than running. Study the course and train accordingly. If hills or trails are involved, you will need to incorporate these into your training runs.
When is the packet pick-up and start time?
Consider the timeline of the race weekend, especially if the race requires travel. Many distance races require that you pick up your packet during the two days prior to the event. Will you be able to make it to the location before race day? Be sure you know the start time. When parking is limited, some races suggest arriving as early as 2 hours before the race. For early morning races, this may require that you are up and out the door by 4:00 a.m. If you are not a morning person, seek out a late morning or evening race.
How is support organized on the course?
Your race will have support stations at intervals throughout the course. The number of stations and types of support will vary depending on the race and the distance. Some will be water stations, others will offer sports drinks, and some will have supplements like gels or light snacks. Every runner is different when it comes to fluid and calorie replacement. Become familiar with what will be offered at your race. If you feel like you may need more support, or support at different intervals, consider training with a hydration belt.
What will it cost?
Running doesn't have to be an expensive activity, but when you participate in races, the costs can quickly add up. Be sure you understand all that is involved so that you are not blindsided with unexpected expenses. Register early so you can take advantage of less expensive early-bird rates. Research if you will have to pay to park or if you will have to purchase a shuttle ticket to the course. Will you need new gear? Miles add up during training and you may need a new pair of shoes before race day. Knowing the full cost of your participation will help you fully prepare for the event.