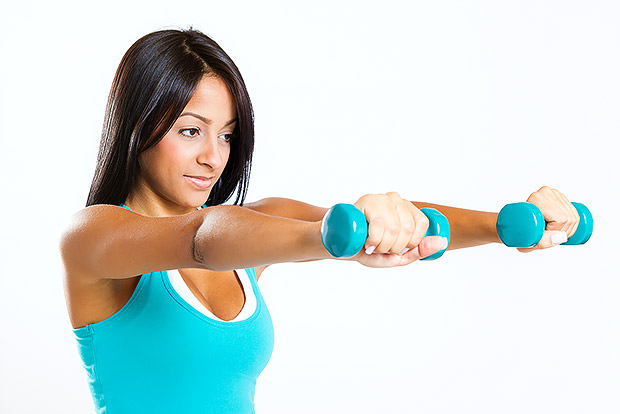 Strong shoulders not only give your upper body a sculpted, fit appearance, they also play a role in good posture. It's important that your shoulder exercises target each of the three areas of the muscle -- the front of the shoulder (anterior deltoids), the middle of the shoulder (medial deltoids) and the back of the shoulder (posterior deltoids). These three exercises are easy to incorporate into your strength training routine for balanced shoulder workout.
Overhead Press Seated on a Stability Ball (Anterior and Medial Deltoids)
Sit on a stability ball with your feet flat on the floor. Use your core to sit up straight and maintain your balance. With a dumbbell in each hand, position your arms so that your elbows are at shoulder level and bent at 90 degrees. The dumbbells should be at about ear level. Press the dumbbells up overhead until your arms are fully extended. Return to the starting position with the dumbbells at ear level and repeat.
Front Raise (Anterior Deltoids)
Stand with your feet hip-width apart. Hold a dumbbell in each hand with your palms facing in toward you so that dumbbells rest over the front of your upper thighs. Keep the right arm straight and lift the dumbbell out in front of you, to shoulder level. Lower to the starting position and repeat with the left arm.
Seated Bent Over Raise (Posterior Deltoids)
Sit on a bench with your feet flat and your legs together. Bend forward at the waist so that your chest is almost resting on your thighs. Hold a dumbbell in each hand with your arms extended towards the floor. Your palms should face in towards your ankles with a dumbbell on the outside of each foot. Keep the arms straight as you use the upper back and shoulders to raise the dumbbells out to the sides until they reach shoulder level. Lower to the starting position and repeat.
Sources