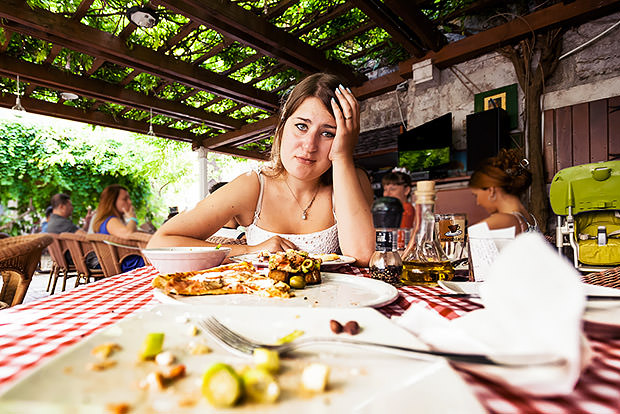 Whether you overeat at one meal or throughout a whole weekend, it is important that you get back on track as soon as possible. Avoid letting the slip up send you into a spiral of guilt and self-doubt. Put the past behind you and use these tips to quickly return to your healthy habits.
Cut out the criticism.
Everyone overindulges from time to time, so don't dwell on it. Criticizing yourself will get you nowhere and you risk making yourself feel worse, which could lead to emotional eating. Identify any negative self-talk and replace it with supportive affirmations. Focus on the positives of the experience. Maybe it was a wonderful meal spent catching up with old friends. Perhaps getting off track has filled you with a renewed sense of motivation. Start planning your next healthy meal or energizing workout and continue to move forward.
Sit down and eat.
It's tempting to skip meals to save calories, but this will only leave you hungry and at risk for overindulging all over again. It's okay to cut back on a few calories, but do it in a healthy way. Return to mindful eating, prepare your meal, sit down, and eat it slowly. Focus on foods that are naturally low in calories, but also full of nutrients like a salad with seasonal fruits and vegetables, and a salmon filet for lean protein and heart-healthy fat. Listen to hunger cues and eat when you are hungry, but stop when you are full. The sooner you can get back to your normal, healthy eating habits, the more quickly you will feel in control of the situation and your ability to reach your goals.
Move your body, don't punish it.
Few things will improve your mood and outlook better than a challenging workout, but do it for the right reasons. Using it as punishment for unhealthy eating may result in pushing yourself to the point of injury. You will end your workout feeling beat up and guilty instead of energized. Exercise is a great way to burn off some of the extra calories you've eaten, but do something you enjoy that will also lift your spirits. A long bike ride or a hike can give you time to reflect and reevaluate your goals. An evening of dancing or a game of softball will reiterate that exercise is a fun way to improve health.