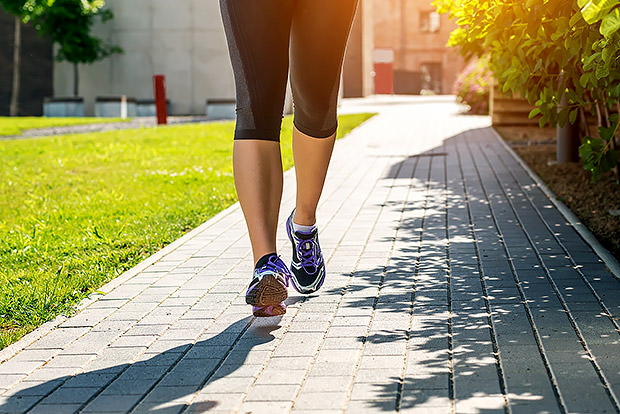 Walking is an effective exercise, but it's easy to get into a rut with your routine. When you continue to walk for the same time and distance at the same intensity, your fitness is no longer challenged and you may no longer see results. This doesn't mean you have to stop walking. Add some of these creative variations to your workout to get the heart pumping and to continue improving your fitness.
Add intervals
By varying your speed throughout your walk, you can boost calorie burn without overexerting yourself. Start at a leisurely pace, walk a little faster for 60 seconds, and then walk as fast as you can for 30 seconds to 60 seconds. Return to your leisurely place for 60 seconds and continue to repeat the intervals throughout your entire walk. If you'd rather not keep time, use landmarks for your intervals. For example, walk quickly to the stop sign and then recover until you get to the fire hydrant.
Alter your environment
A boring walk feels like it lasts forever and your lack of interest could slow you down to a shuffle. Choose walking environments that energize you or those that relieve your stress, and alternate where you walk to avoid boredom. Take time to investigate what types of walking environments you have access to. You might be surprised to find nature trails, beaches, paved trails around lakes, high school cross-country courses, and quaint downtown streets, which all provide enjoyable places to walk.
Find an incline
Whether you are on a treadmill or outside, increasing the grade on your course is a quick and easy way to increase the intensity. On the treadmill, instead of changing the speed during intervals, try increasing the incline. If you are outdoors, find a hilly route or stairs to instantly challenge your fitness.
Incorporate circuits
Your workout doesn't have to be limited to walking. A 30-to-45-minute walk provides a great opportunity to work in some strength training. Walk for 5 minutes, stop and do a set of lunges. Walk for 5 more minutes and do a set of bicep curls with an exercise band. Adding some different activities will make your workout go faster and you'll have both your cardio and strength training completed in one session.
Beat your time
Turn your walks into a competition with yourself. Stick with the same course and distance for two weeks. Record your total time on your first workout. On each walk that follows, try to beat the time before it. Not only will you increase your pace and challenge your fitness, you will gain a sense of accomplishment from achieving your goal.
Sources