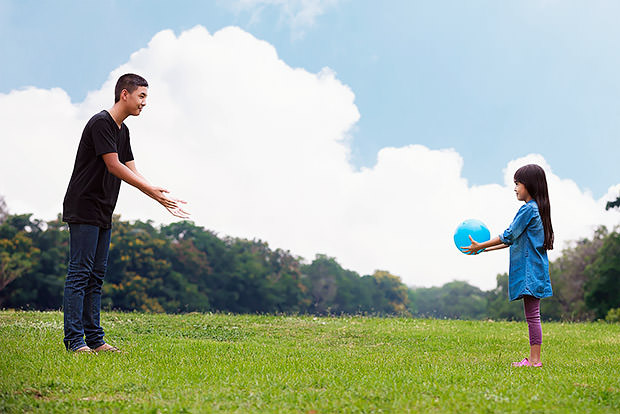 You can have a positive influence on your family's health by making your time together more active. Not only do these games help you burn calories, they teach your children that exercise can and should be fun!
Backyard Obstacle Course
Gather gear together and create an obstacle course in your backyard. Lay hula-hoops on the ground and hop to each one, crawl the length of a jump rope, and hop over a sturdy crate. Get everyone involved and let each person create their own obstacle to add to the course. Time each family member as they complete the entire course. Repeat the course and encourage everyone to beat their own time.
Indoor or Outdoor Circuit
Circuit training isn't only for adults. Involve the kids in a circuit of activities outdoors or create some space inside on a cold and rainy day. Incorporate stations like hula-hoop, jumping jacks, jump rope, crab-walk, wall-push ups, and chair-sits. Use a stopwatch and set up everyone at their first station. Do each exercise for 50 seconds, and then use 10 seconds to transition to the next exercise.
Toss in the Bucket
Select a starting line where everyone will toss their ball. Set up buckets of different sizes, different distances away from the line. Be sure to make some far away so that everyone has to put effort into his or her throw. Pick balls that vary in size, appropriate for each bucket. Try golf balls, tennis balls, or softballs. Allow each family member to throw the balls in the buckets and keep things active by making everyone retrieve their own ball. Get the heart rate up and encourage a faster pace by timing each person with the winner being the one who makes the most buckets and who also has the fastest time.
Walk and Drop
Find a round object that is large enough to be held between your legs at knee level. This might be a softball, a balloon, or even a potato. Set a starting point and place a bucket or bowl a few yards away. The further the bucket, the harder the game, so adjust according to the ages of your children. Each person must put the object between their knees and walk with it to the bucket where they will then drop the object into it. Time each person. The faster you move, the better the exercise and your chances of winning.
Pass the Pedometer
Pedometers don't have to be reserved for adults. Giving one to the whole family creates a way to track activity while also providing an easy math lesson. Before you head out to the park or off on a hike, strap on the pedometer. Everyone can guess how many total steps you'll have by the end of the day, or let everyone wear the pedometer for a set amount of time and see who gets in the most steps. Once you know the total number, you can divide it by 2,000 to get a rough estimate of how many miles the whole family covered.