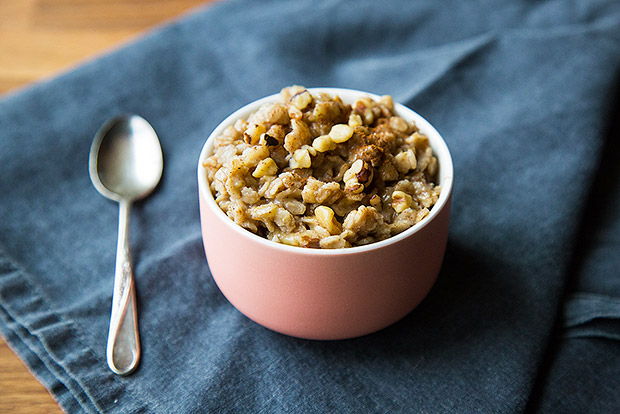 Oatmeal provides dietary fiber that helps to reduce cholesterol. Making your own oatmeal with rolled oats takes just a few minutes, and it allows you to avoid the instant versions that can be full of artificial flavorings, preservatives, and refined sugar.
Nutrition Facts
Serving Size 1 serving
Amount Per Serving
% Daily Value*
Trans Fat 0g
16%
Total Carbohydrate
47.7g
Sugars 13.9g
*
The % Daily Value (DV) tells you how much a nutrient in a serving of food contributes to a daily diet. 2,000 calories a day is used for general nutrition advice.
Yield: 1 serving
Ingredients
1 cup water
½ cup old fashioned rolled oats
½ medium banana, mashed
2 tsp honey
¼ tsp pure vanilla extract
¼ tsp ground cinnamon
1 tbsp raw chopped walnuts
Directions
Bring the water to a boil in a small saucepan over medium-high heat. Stir in the oats and reduce the heat so the oatmeal comes to a simmer. Stir occasionally while it cooks for 3 minutes.
Stir in the banana and honey. Cook for 2 more minutes or until the oats are tender and thickened. Remove from the heat, and stir in the vanilla and cinnamon.
Mix in the walnuts before serving, or serve them sprinkled over the top.