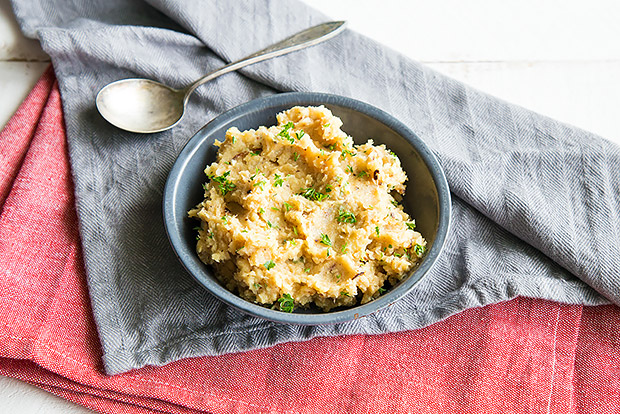 Trade your mashed white potatoes for a more creative side dish that is full of nutrient-rich root vegetables. This recipe uses parsnips and white sweet potatoes that have been roasted to bring out the deep caramelized flavors. A little heart-healthy olive oil cuts saturated fat, and fresh herbs reduce the need for excess salt.
Nutrition Facts
Serving Size 1/4 recipe
Amount Per Serving
% Daily Value*
Trans Fat 0g
Sugars 3.7g
Vitamin C 29%
Vitamin A 0%
*
The % Daily Value (DV) tells you how much a nutrient in a serving of food contributes to a daily diet. 2,000 calories a day is used for general nutrition advice.
Yield: 4 servings
Preparation time: 20 minutes
Baking time: 40 minutes
Ingredients
1 ½ cups peeled and chopped parsnip
1 cup peeled and chopped white sweet potato
¾ cup chopped white onion
3 cloves garlic, peeled
1 tbsp olive oil
½ tsp fresh thyme leaves
¼ cup unsalted vegetable or chicken stock, warmed
½ tsp fresh chopped parsley
1/8 tsp fine ground sea salt
1/8 tsp ground black pepper
Directions
Preheat the oven to 400 degrees F.
Spread the parsnip, sweet potato, onion, and garlic on a baking sheet. Drizzle with ½ tablespoon of olive oil and add the thyme. Stir well to coat the vegetables in oil. Spread in a single layer. Bake for 40 minutes. Remove the pan from the oven, and stir the vegetables 2 to 3 times during baking.
Transfer the vegetables to a bowl. Pour in the remaining ½ tablespoon of olive oil and the stock. Use an immersion blender to puree the vegetables until no large chunks remain.
Stir in the parsley, salt, and pepper, and serve.