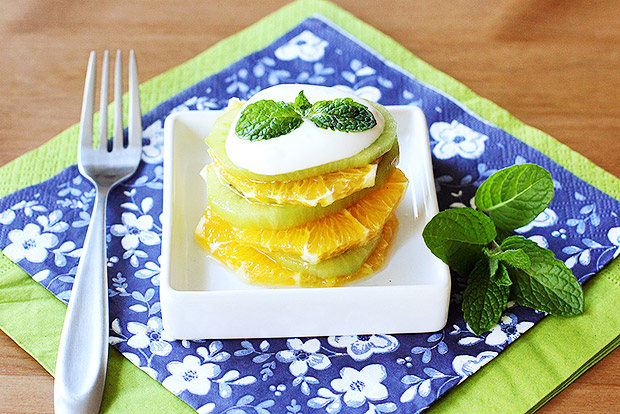 You can lose weight and still satisfy your sweet tooth. The key is finding treats with more nutrients and fewer calories and added sugars.
Fancy Fresh Fruit
Low in calories, but rich in valuable fiber and beneficial antioxidants, fruit is an obvious healthy dessert. But this doesn't mean you have to sit down to a boring bowl of fruit salad. Freeze blended fruits to make a popsicle, puree frozen mango and pineapple for a simple dairy-free ice cream, or stack fruit slices like this Orange Kiwi Fruit Salad with Honey Yogurt.
Unsweetened Dried Fruit
Dried fruit can be loaded with calories. The drying process extracts the moisture making it easy to eat several apricots or plums in one sitting. Many dried fruits also have added sugar, increasing the calorie count even more. The sweetness is concentrated in dry fruit, so there is no need for added sugar. Make your own or stick with unsweetened varieties. Eating a small handful of dried cherries or raisins is a healthy way to satisfy a candy craving while increasing your fiber intake.
Dark Chocolate
Flavanols, like those found in chocolate, have been found to lower blood pressure, increase blood flow, and reduce blood clot formation. Processing chocolate, like when butter and sugar are added to make milk chocolate, reduces the concentration of the flavanols, so remember to grab dark chocolate (at least 70 percent cacao solids) and limit servings to 1 ounce to avoid going overboard on calories.
Nut Butters
When ground into a spreadable paste, most nuts have a concentrated sweetness even without added sugar. Enjoy a teaspoon or two for dessert, and you'll reap the same nutritional benefits as eating a few nuts. Add more flavor without excess calories by stirring in cocoa powder or spices like cinnamon and nutmeg.
Homemade Frozen Yogurt
Making frozen yogurt at home allows you to combine the health benefits of fresh fruit with a boost of protein and calcium. You can make your frozen treat in a countertop ice cream maker, like this Strawberry Mango Frozen Yogurt, or use a blender to create a frozen yogurt that is more like soft serve or a thick smoothie.
Sources