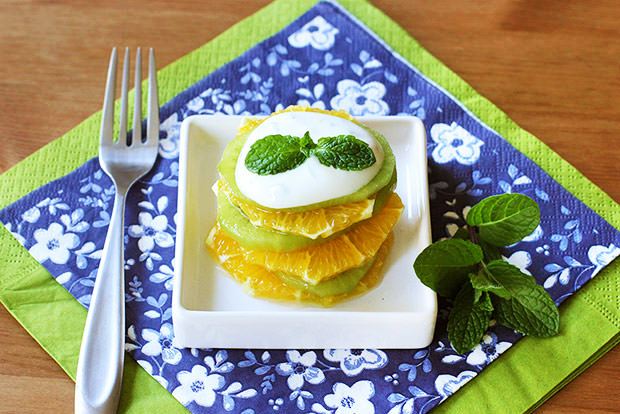 Entertaining doesn't have to result in unhealthy eating. You can dress up simple, healthy foods to leave a positive impression on your guests. The orange and kiwi in this salad give you a double dose of vitamin C and a boost of fiber. It makes a nice addition to a weekend brunch or it can serve as a nutritious dessert.
Nutrition Facts
Serving Size 1/6 recipe
Amount Per Serving
% Daily Value*
Trans Fat 0g
6%
Total Carbohydrate
18.2g
Sugars 14.4g
*
The % Daily Value (DV) tells you how much a nutrient in a serving of food contributes to a daily diet. 2,000 calories a day is used for general nutrition advice.
Yield: 6 servings
Preparation time: 20 minutes
Ingredients
3 navel oranges, peeled and sliced
3 kiwi fruit, peeled and sliced
6 tbsp low-fat plain Greek yogurt
1 tbsp honey
6 to 8 fresh mint leaves, finely chopped
Directions
Divide the sliced oranges into six equal portions. Do the same with the kiwi fruit.
For each serving plate, alternate slices of orange and kiwi to create a stacked salad.
In a small bowl, stir together the yogurt, honey, and mint. Spoon about one tablespoon of the sweetened yogurt over each salad before serving.