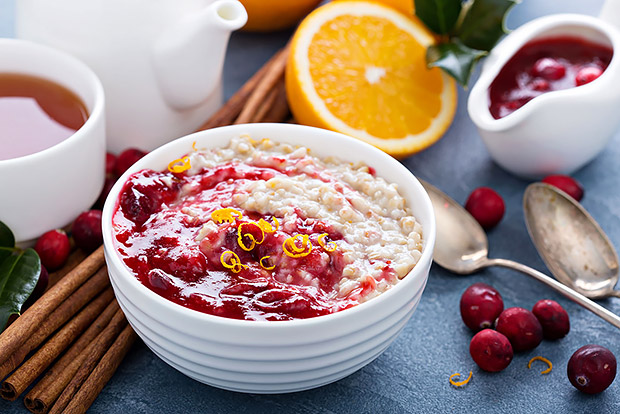 There are plenty of healthy foods to be found throughout the holiday season. Instead of focusing on what you should avoid, focus on eating more of these foods this time of year.
Cranberries
The antioxidants in cranberries have been found to protect the liver and cardiovascular system against disease. Distinct plant nutrients in cranberries prevent urinary tract infections. The fruit also has anti-cancer properties and may protect against breast, colon, lung, and prostate cancers. Dried cranberries (or craisins) are a popular choice, but they're often loaded with sugar. Try roasting cranberries and adding them to salads or finely chop them into a relish or salsa. When you prepare fresh cranberries yourself, you can add just enough sugar to tame the tart flavor without loading them with calories.
Coconut Flour
Coconut flour adds fiber to baked goods like muffins and cookies. Just two tablespoons of the flour contains 5 grams of dietary fiber. It is also a naturally gluten-free flour. Just be sure to check the label to ensure it was not processed in a facility with gluten-containing products.
Oranges
Oranges are rich in the antioxidant vitamin C, but their benefits do not end there. Oranges contain many more plant nutrients, including citrus flavanones. These nutrients may help lower high blood pressure and cholesterol. Be sure to eat the pulp as many of these nutrients are not found in the processed juice.
Oatmeal
Research shows that oats contain a soluble fiber called beta glucan that can help reduce LDL (bad) cholesterol by an average of 7 percent. You can give your oatmeal a holiday twist by adding a little molasses and spices, or cook your oatmeal with fresh cranberries.
Nut Meals and Flours
Nut meals and flours retain the same nutrients as whole nuts. They provide a way to add more protein and heart-healthy fat to foods. Nut flours can be used in baked goods or to thicken soups. Nut meals can be used to coat fish and chicken breasts before baking, or stir it into stuffings. Mix nut meals into toppings for healthy casseroles or fruit crumble desserts.
Red Grapefruits
Like oranges, grapefruits contain the antioxidant vitamin C that promotes cardiovascular health, but by choosing red or pink grapefruits you'll get an extra nutritional boost. These fruits contain lycopene, a phytonutrient that has been found to protect against cancer.