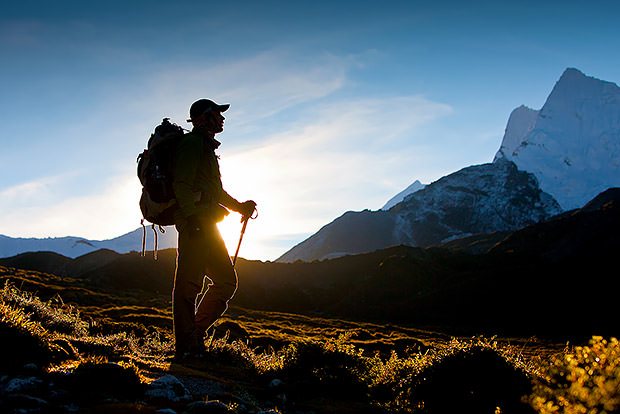 Combining the physical and mental benefits of a day hike with controlled calorie intake can make hiking an effective tool in your weight loss plan. Discover why hiking can help you lose weight and apply some of these tips to enhance the benefits.
The Benefit of Lower Intensity, Longer Duration Exercise
It was once believed that low to moderate intensity exercise was the most effective for weight loss due to the body's reliance on fat for energy, often called the fat burning zone. However, current research suggests that total calories burned is a more important factor. When done for the same amount of time, more calories are burned during high intensity activities versus low intensity activities.
The long duration of hiking makes it effective for weight loss. It's intensity level allows you to hike for hours, sometimes a full day, blasting hundreds of calories (480 calories per hour for a 150-pound female). Lower intensity, longer duration activities may also improve blood cholesterol levels and improve insulin function. A Dutch study found that when the same number of calories are burned, low intensity activity done throughout the day (walking, standing) may be more effective than short, intense activity at improving blood cholesterol and insulin levels.
The Impact of Nature on Health Behaviors
Research shows that exercising in nature can reduce feelings of depression and increase self-esteem. If weight loss is your goal, not only do these benefits give you the mental boost necessary to stick to your plan, but being surrounded by nature can influence your behaviors. Each day you are bombarded with triggers that lead to emotional eating whether it is a stressful encounter or a food commercial on television. Removing yourself from your current environment can help you recognize and control these triggers. The focus and mindfulness you gain can be applied when you return from the hike to further control emotional eating.
Watch Out for Energy Dense Snacks
Adults weighing 150 to 200 pounds can burn 1,900 to 2,500 calories on a four hour hike. The problem is that this high level of calorie burn often results in increased hunger to refuel hardworking muscles. For this reason, typical hiking snacks like energy bars and trail mix are packed with calories. They can help you replenish energy without needing to carry large amounts of food. If you want to lose weight, it's important not to eat back all of the calories you've worked so hard to burn. Focus on a combination of snacks that supply complex carbohydrates, protein, fiber, and healthy fat that will keep you full with fewer calories. Jerky, dry cereal, vegetables with hummus, fruit with nut butter, and string cheese sticks are good choices that will stay fresh in a small insulated lunch bag for day hikes.
Try Adding Extra Gear
Hiking with a pack requires you to work harder causing an increase in calories burned. A 150-pound person hiking with a 21-42 pound pack burns about 80 more calories per hour than when hiking without a pack. Trekking poles may also be an effective alternative to boost the benefits of a hike. Results of a study published in the Journal of Strength and Conditioning Research concluded that adding trekking poles to your hike can increase calories burned without causing a noticeable change in the difficulty of the activity.