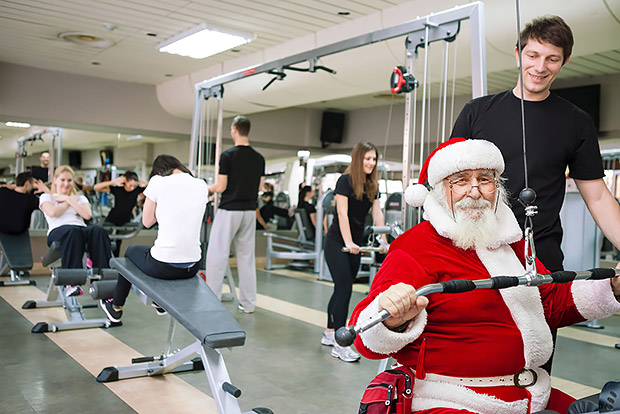 Your activity level during the holidays could be the difference between maintaining your weight and gaining unwanted pounds. The more you move, the more calories you burn. Taking advantage of every opportunity to make the holidays more active will help you reach your fitness goals.
Get a head start on stress every morning.
The stress of the holiday season can easily overwhelm us. When you squeeze in a workout each morning, you not only burn calories. You give yourself a head start at combating the stress that might arise later in the day. Exercise produces feelings of calmness and control, leaving you more confident to take on a busy day. Go for a 10-minute run, do a quick circuit workout or get to the office early and walk the stairs before the workday begins.
Give the gift of house and yard work.
Most of us know someone who can no longer take care of their home on their own. Offer the gift of assistance and boost your activity level. Raking leaves, shoveling snow, cleaning for a holiday party, and hanging holiday decorations are all active ways you can help those who need extra support this time of year.
Run or walk with your community.
Many organizations put on run/walk events this time of year that range from distances of one mile to half marathons. Find a good cause to support and sign up to participate. Whether you walk or run, the training and event will keep you moving throughout the holiday season.
Move your family time away from the table.
Conversations around the table are a special part of the holiday season, but we don't always have to make those conversations sedentary. Quality time can be spent on a walk together or playing a family game of basketball. Make it a priority to be active together.
Hand deliver gifts and cards.
It may seem old fashioned, but you can get in activity, save money, and build relationships by delivering gifts and cards on foot. Don't mail your card to neighbors or send the kids to deliver a cookie tray. Take a walk and deliver it together.
Help animals and move more.
Animal shelters are often looking for volunteers during the holiday season. Bundle up and volunteer to walk or run dogs. You can help support a cause close to your heart while sneaking in a workout at the same time.