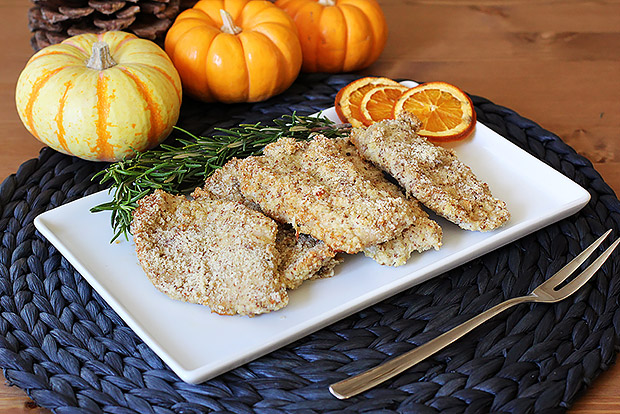 This quick and easy recipe allows you to get a turkey dinner on the table in minutes. It's packed with protein and low in saturated fat. With the flavors of the holiday season, this recipe provides an easy way to improve nutrition and lessen the stress of your holiday meal.
Nutrition Facts
Serving Size 1 cutlet
Amount Per Serving
% Daily Value*
Trans Fat 0g
1%
Total Carbohydrate
3.9g
Sugars 0.7g
*
The % Daily Value (DV) tells you how much a nutrient in a serving of food contributes to a daily diet. 2,000 calories a day is used for general nutrition advice.
Yield: 6 servings
Preparation time: 10 minutes
Baking time: 30 minutes
Ingredients
1 cup almond meal
¼ tsp poultry seasoning
¼ tsp salt
1 egg white
1 tbsp Dijon mustard
1 tbsp water
6 turkey cutlets (about 1 lb.)
Directions
Preheat the oven to 375 degrees Fahrenheit. Spray a baking sheet or casserole dish with non-stick cooking spray or olive oil.
In a shallow dish, large enough to fit a single cutlet, stir together the almond meal, poultry seasoning, and salt.
In a separate shallow dish, whisk together the egg white, mustard, and water.
Dip one turkey cutlet in the egg white mixture. Turn to coat it evenly.
Next, dip it in the almond meal, turning to coat all sides. Place the cutlet on the baking sheet. Repeat for the remaining cutlets.
Bake for 25 to 30 minutes, until the crust is lightly browned and the turkey is cooked through.