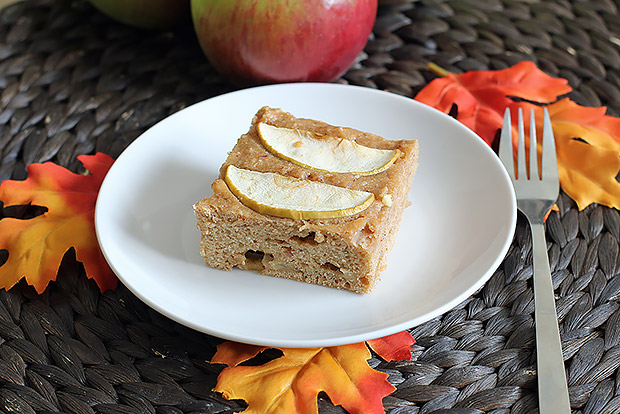 This whole grain autumn-inspired cake uses almond meal and Greek yogurt to boost the protein. It can be eaten for breakfast, as a quick snack, or as a light dessert. Almond meal can be found in the health food section of your supermarket or online. It is sometimes called almond flour.
Tips for the cook: If you can't find almond meal, you can make your own by grinding blanched almonds in the food processor until they turn into a fine powder.
Nutrition Facts
Serving Size 1 slice
Amount Per Serving
% Daily Value*
Trans Fat 0g
6%
Total Carbohydrate
17.7g
Sugars 9.6g
*
The % Daily Value (DV) tells you how much a nutrient in a serving of food contributes to a daily diet. 2,000 calories a day is used for general nutrition advice.
Yield: 12 slices
Preparation time: 10 minutes
Baking time: 40 minutes
Ingredients
2 large eggs
½ cup raw sugar
½ cup low-fat plain Greek yogurt
½ tsp almond extract
½ tsp ground cinnamon
½ tsp baking powder
½ tsp salt
1 cup white whole wheat flour
½ cup almond meal
1 small apple, peeled, cored and diced
½ small apple sliced for garnish (optional)
Directions
Preheat the oven to 350 degrees Fahrenheit. Coat an 8 x 8 inch baking pan with olive oil or non-stick cooking spray.
In a large mixing bowl, whisk together the eggs and sugar. Stir in the Greek yogurt until smooth.
Add the almond extract, cinnamon, baking powder and salt. Stir just until all ingredients are combined.
Add the flour and almond meal and stir until combined. Stir in the diced apple.
Transfer the batter to the prepared baking pan and spread evenly. Top with apple slices, if using.
Bake for 35 to 40 minutes, until the edges are browned and a toothpick inserted in the center of the cake comes out clean.
Cool at least 15 minutes, cut into slices and serve.