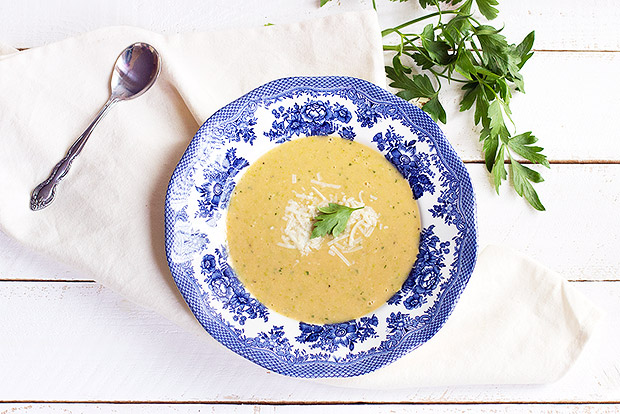 This soup provides a hearty, filling meal without the excess fat and sodium of canned versions. It uses fresh asparagus that provides vitamin K. The white beans add both protein and fiber. When blended, the beans thicken the soup to a creamy consistency without the need for cream or butter.
Nutrition Facts
Serving Size 1/4 recipe
Amount Per Serving
% Daily Value*
Trans Fat 0g
14%
Total Carbohydrate
41.3g
Sugars 3.9g
*
The % Daily Value (DV) tells you how much a nutrient in a serving of food contributes to a daily diet. 2,000 calories a day is used for general nutrition advice.
Yield: 4 servings
Preparation time: 15 minutes
Cooking time: 15 minutes
Ingredients
1 tbsp olive oil
2 cloves garlic, minced
1 cup diced onion
1 cup chopped asparagus
2 (15 oz.) cans no salt added white beans, rinsed and drained
2 ¼ cups low sodium vegetable or chicken broth
1 tbsp chopped fresh parsley
½ tsp fine ground sea salt
¼ tsp ground black pepper
Parsley and shredded parmesan cheese for garnish (optional)
Directions
Heat the oil in a 3 to 4 quart pan over medium-high. Add the garlic and onion. Cook for 3 minutes, stirring often. Add the asparagus and cook for 2 more minutes.
Stir in the beans and then the vegetable broth. Simmer for 5 minutes. Stir in the parsley.
Transfer the soup to a blender and puree for 10 to 15 seconds, until the soup is smooth. Return the soup to the pan on low heat. Stir in the salt and pepper. Serve warm, garnished with parsley leaves and shredded parmesan, if desired.