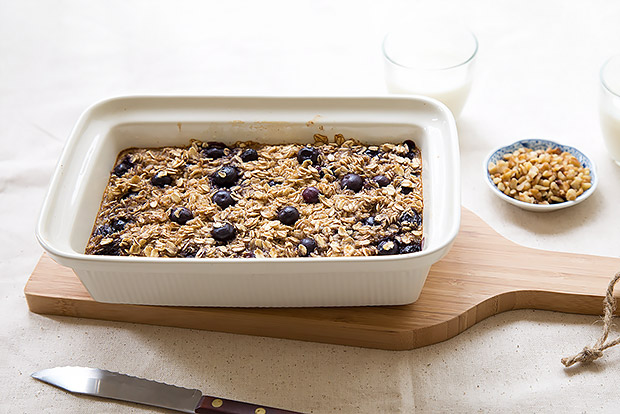 Baked oatmeal makes a healthy breakfast that can be made early in the week and reheated on a busy morning. This version uses frozen blueberries for a sweet and hearty breakfast that isn't loaded with sugar or saturated fat.
Nutrition Facts
Serving Size 1/6 recipe
Amount Per Serving
% Daily Value*
Trans Fat 0g
9%
Total Carbohydrate
27.9g
Sugars 10.7g
*
The % Daily Value (DV) tells you how much a nutrient in a serving of food contributes to a daily diet. 2,000 calories a day is used for general nutrition advice.
Yield: 6 servings
Preparation time: 10 minutes
Baking time: 30 minutes
Ingredients
1 ½ cups old fashioned rolled oats
1 ½ cups skim milk
1 cup frozen blueberries
3 tbsp brown sugar or raw sugar
½ tsp pure vanilla extract
½ tsp ground cinnamon
¼ tsp fine ground sea salt
1 large egg white, beaten
Directions
Preheat the oven to 350 degrees Fahrenheit. Spray a 4-cup casserole dish with non-stick cooking spray.
Add the oats and milk to a medium bowl and stir well. Next, stir in the blueberries, brown sugar, vanilla, cinnamon, and salt.
Stir in the egg white. Continue to stir until it is fully incorporated into the oatmeal.
Pour the oatmeal into the prepared baking dish. Bake for 30 minutes, until the edges are browned. Cut into 6 portions and serve warm.