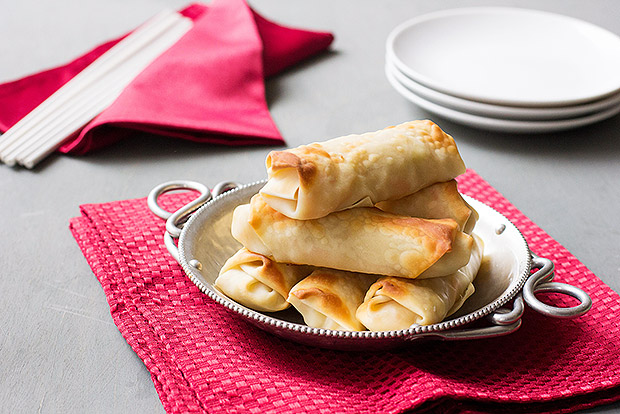 Egg rolls always go over well as a party snack or an appetizer, but meat fillings and deep frying increases the calories and unhealthy fat. These egg rolls are filled with healthy root and cruciferous vegetables, and then baked until golden brown. Serve them with your favorite sauce for dipping, like plum sauce or sriracha.
Nutrition Facts
Serving Size 1 egg roll
Amount Per Serving
% Daily Value*
Trans Fat 0g
5%
Total Carbohydrate
13.9g
Sugars 1.3g
*
The % Daily Value (DV) tells you how much a nutrient in a serving of food contributes to a daily diet. 2,000 calories a day is used for general nutrition advice.
Yield: 10 egg rolls
Preparation time: 20 minutes
Bake time: 15 minutes
Ingredients
1 tbsp olive oil
3 cloves garlic, minced
2 tbsp finely chopped onion
½ tsp minced fresh ginger
½ cup shredded carrot
½ cup shredded daikon radish
2 cups shredded green cabbage
½ tsp dark sesame oil
½ tsp low sodium soy sauce
10 egg roll wrappers
Directions
Heat a ½ tablespoon of the olive oil in a large skillet or wok over medium-high heat. Add the garlic and onion and cook for 2 minutes. Stir in the ginger and cook 1 more minute.
Add the carrot and daikon and cook for 1 minute. Next, mix in the cabbage and cook for 1 more minute. Remove from the heat, and stir in the sesame oil and soy sauce. Let the filling cool for 5 minutes.
Preheat the oven to 400 degrees Fahrenheit.
Spray a baking sheet with non-stick cooking spray or cover the pan with a silicone baking mat. Fill a small dish with about ¼ cup of warm water.
To assemble the egg rolls, place a wrapper on a flat surface with one corner pointing towards you. Transfer a ¼ cup of the vegetable filling to the center of the wrapper. Use a pastry brush to brush warm water along the edge of the wrapper.
Fold the bottom corner up over the filling. Fold in the right and left sides, and roll up the egg roll like a burrito.
Assemble the remaining egg rolls. Place the egg rolls on the baking sheet. Brush the tops of the egg rolls with the remaining olive oil. Bake for 12 to 15 minutes, until golden brown. Serve warm.