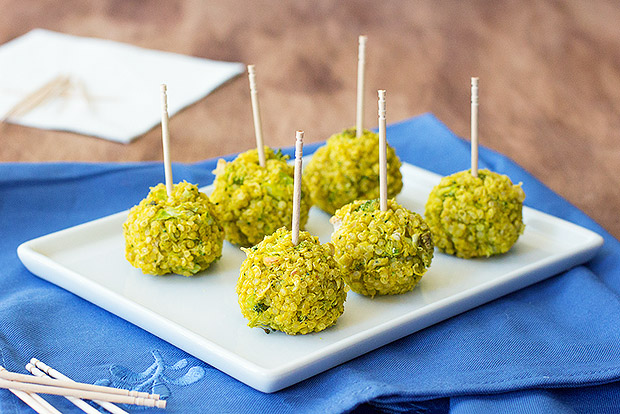 These bites combine protein-rich quinoa and beans with nutritious broccoli for a healthy, baked snack. They work well for an easy holiday party appetizer, or you can serve them during the next big game. Team them up with some Greek yogurt dressing to use as a dip.
Nutrition Facts
Serving Size 2 bites
Amount Per Serving
% Daily Value*
Trans Fat 0g
3%
Total Carbohydrate
8.7g
Sugars 0.3g
*
The % Daily Value (DV) tells you how much a nutrient in a serving of food contributes to a daily diet. 2,000 calories a day is used for general nutrition advice.
Yield: 28 bites
Preparation time: 15 minutes
Cooking time: 20 minutes
Baking time: 25 minutes
Ingredients
2/3 cup dry quinoa, rinsed
2 cups water
1 cup white beans, rinsed and drained
1 cup finely chopped broccoli florets
2 cloves garlic, minced
½ tsp dried oregano
½ tsp ground cumin
¼ tsp ground turmeric
¼ tsp ground coriander
¼ tsp fine ground sea salt
¼ tsp ground black pepper
Directions
Stir together the quinoa and the water in a medium saucepan. Heat to a boil over medium-high, reduce the heat, and simmer for 15 to 20 minutes until almost all the water is absorbed. Set aside to cool. Any remaining water will be absorbed.
Preheat the oven to 350 degrees F.
Add the beans to a large bowl. Use a potato masher to smash the beans until mostly smooth. Stir in the broccoli and the garlic. Add the quinoa and gently smash it into the beans as you stir. Mix in the oregano, cumin, turmeric, coriander, salt, and pepper.
Use a cookie scoop to remove one scoop of the mixture. With clean hands, roll it into a ball. Place on a baking sheet covered with a silicone mat or a baking sheet sprayed with non-stick cooking spray. Repeat with the remaining mix.
Bake the bites for 25 minutes, until firm and lightly browned. Serve warm.