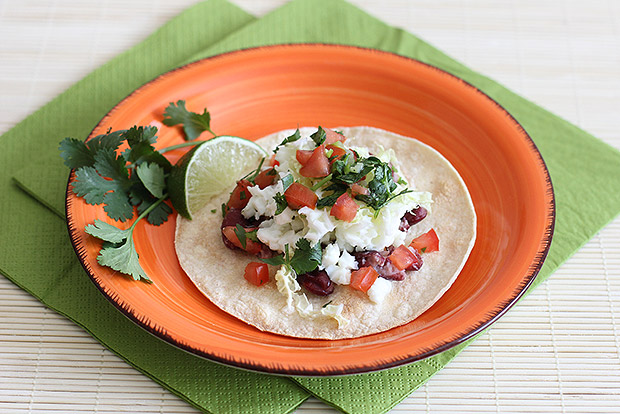 This easy breakfast is just what you need to get you through a busy day. These flavorful egg white tostadas are low in fat and packed with protein. By skipping the cheese and topping them with fresh homemade salsa, you also reduce excess sodium.
Nutrition Facts
Serving Size 1 tostada
Amount Per Serving
% Daily Value*
Trans Fat 0g
6%
Total Carbohydrate
17.5g
Sugars 1.5g
*
The % Daily Value (DV) tells you how much a nutrient in a serving of food contributes to a daily diet. 2,000 calories a day is used for general nutrition advice.
Yield: 4 tostadas
Preparation time: 10 minutes
Ingredients
4 corn tortillas
¼ cup diced tomato
¼ cup chopped cilantro
1 green onion, white and greens sliced
1 tbsp minced serrano pepper (optional)
1 tsp lime juice
1/8 tsp salt
½ cup no-salt-added kidney or black beans, smashed
4 egg whites, scrambled
¾ cup napa cabbage, thinly sliced
Preparation
Preheat the broiler and arrange the tortillas in a single layer on a baking sheet. Broil until they are crisp and begin to brown, about 5 minutes.
In a small dish, combine the tomato, cilantro, green onion and pepper. Add the lime juice and salt and stir to incorporate all ingredients. Set aside.
Assemble the tostadas by topping each tortilla with 1/8 cup of smashed beans and one scrambled egg white. Top each with an equal amount of the tomato salsa and the napa cabbage. Serve warm.