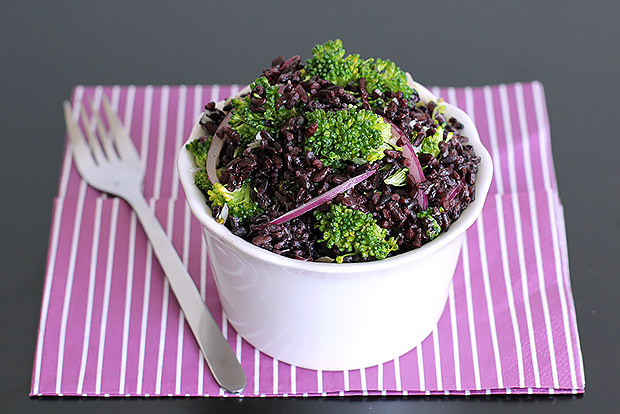 Black rice is a whole grain that is packed with antioxidants and important minerals. Its nutty flavor makes it a delicious side dish on its own, but it is even better when used in a cold grain salad with nutritious vegetables. This recipe combines black rice with broccoli and a slightly sweet sesame dressing.
Tips for the cook: Black rice is sometimes called Forbidden Rice. It can be found in most health food supermarkets or online. It's best served the day it is cooked because its dark purple pigment can color other ingredients when stored overnight.
Nutrition Facts
Serving Size 1/4 recipe
Amount Per Serving
% Daily Value*
Trans Fat 0g
10%
Total Carbohydrate
29g
Sugars 2.6g
*
The % Daily Value (DV) tells you how much a nutrient in a serving of food contributes to a daily diet. 2,000 calories a day is used for general nutrition advice.
Yield: 4 servings
Preparation time: 10 minutes
Cook time: 20 minutes
Ingredients
¾ cup black rice
2 tbsp tahini (sesame paste)
2 cloves garlic, chopped
1 tsp honey
¼ tsp low-sodium soy sauce
1½ cups broccoli florets, chopped
¼ of a red onion, thinly sliced
Preparation
To cook the black rice, bring 3 cups of water to a boil in a medium saucepan over medium-high heat. Stir in the rice. Reduce to a simmer and cook for 15 to 20 minutes, until the grains are tender.
Drain the rice in a colander, and quickly rinse with cold water. Let sit to drain.
Place the tahini, garlic, honey, and soy sauce in a small food processor. Pulse until all of the ingredients are combined. If you don't have a small food processor, mince the garlic and whisk the ingredients together in a small bowl.
Place the broccoli and onion in a medium bowl. Add the cooled rice. Pour in the dressing and toss to coat all ingredients. Serve at room temperature or cold.