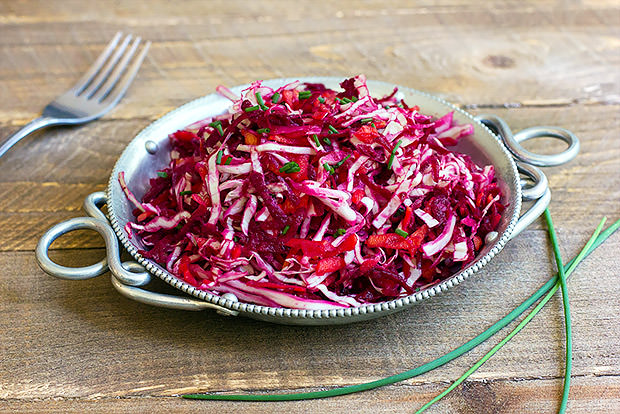 Beets contain phytonutrients called betalains that act as antioxidants and are shown to have anti-inflammatory properties. Betalains are sensitive to heat and decrease when beets are cooked. This recipe uses raw beets to help maintain their valuable antioxidant content. They are mixed with cabbage and carrots for a crisp slaw that makes a great side dish for cookouts.
Nutrition Facts
Serving Size 1/4 recipe
Amount Per Serving
% Daily Value*
Trans Fat 0g
3%
Total Carbohydrate
8.9g
Sugars 5.9g
*
The % Daily Value (DV) tells you how much a nutrient in a serving of food contributes to a daily diet. 2,000 calories a day is used for general nutrition advice.
Yield: 4 servings
Preparation time: 15 minutes
Ingredients
2 cups shredded green cabbage
1 medium carrot, shredded (about ¾ cup)
1 clove garlic, grated
1 tbsp chopped fresh chives
4 tsp rice vinegar
1 tsp honey
1/8 tsp salt
2 small beets, peeled and shredded (about 1 cup)
Directions
In a medium bowl, toss together the cabbage, carrot, garlic, and chives.
In a small dish, stir together the vinegar, honey, and salt. Pour the dressing over the vegetables and toss to coat.
Add the shredded beet and gently toss all the ingredients. The beet will slightly color the other vegetables. Serve right away.