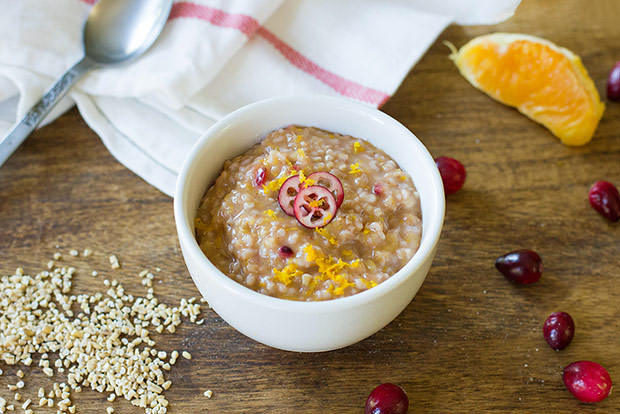 Steel-cut oatmeal makes a warm and filling breakfast that provides dietary fiber. Give it a seasonal twist by adding antioxidant-rich fresh cranberries and orange segments. This oatmeal is lightly sweetened with honey, but feel free to substitute your favorite natural sweetener.
Nutrition Facts
Serving Size 1/2 recipe
Amount Per Serving
% Daily Value*
Trans Fat 0g
14%
Total Carbohydrate
41g
Sugars 12.4g
*
The % Daily Value (DV) tells you how much a nutrient in a serving of food contributes to a daily diet. 2,000 calories a day is used for general nutrition advice.
Yield: 2 servings
Preparation time: 10 minutes
Cooking time: 30 minutes
Ingredients
½ cup dry steel-cut oats
2 cups water
Segments from ½ a medium orange
¼ cup fresh cranberries
1 tbsp honey
1 tsp orange zest
¼ tsp pure vanilla extract
¼ tsp ground cinnamon
1/8 tsp ground nutmeg
Directions
Combine the oats and water in a medium saucepan. Heat on high until they boil, then reduce the heat to medium-high and cook for about 25 minutes, stirring occasionally. It will thicken, and the oats will become tender.
While the oatmeal cooks, combine the orange segments and cranberries in a small food processor. Pulse until finely chopped.
Once the oatmeal is done cooking, stir in the oranges and cranberries. Remove from the heat and fold in the honey, orange zest, vanilla, cinnamon, and nutmeg. Serve warm.