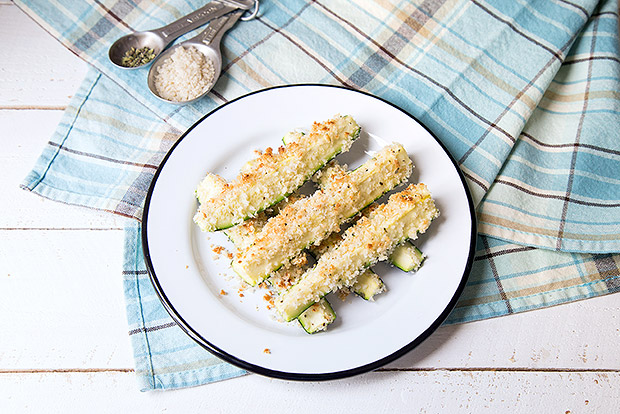 Zucchini and other summer squashes are antioxidant-rich and provide copper, manganese, potassium, folate, and fiber. In this recipe, zucchini sticks are coated in bread crumbs and baked until crunchy for a healthy snack or side dish.
Nutrition Facts
Serving Size 1/6 recipe
Amount Per Serving
% Daily Value*
Trans Fat 0g
2%
Total Carbohydrate
5.4g
Sugars 0.3g
*
The % Daily Value (DV) tells you how much a nutrient in a serving of food contributes to a daily diet. 2,000 calories a day is used for general nutrition advice.
Yield: 6 servings
Preparation time: 15 minutes
Baking time: 15 minutes
Ingredients
1 lb. small zucchini, ends trimmed
¾ cup panko bread crumbs
¼ cup grated parmesan cheese
¼ tsp dried oregano
¼ tsp garlic powder
¼ tsp fine ground sea salt
¼ tsp ground black pepper
1 large egg
1 tbsp water
Directions
Preheat the oven to 425 degrees Fahrenheit.
Cut each zucchini in half length-wise, and then cut each half again length-wise to make 4 sticks per small zucchini.
In a large shallow baking dish, stir together the bread crumbs, cheese, oregano, garlic powder, salt, and black pepper.
In a large bowl, whisk together the egg and the water for 15 seconds. Add the zucchini sticks to the bowl and toss to coat each in the egg.
Transfer the zucchini sticks to the dish with the bread crumbs. Working in batches, coat each stick with crumbs. Place the sticks, skin-side down on a baking sheet covered with a silicone mat or parchment paper.
Bake for 12 to 15 minutes, until the zucchini is tender and the bread crumbs are browned and crunchy. Serve warm.