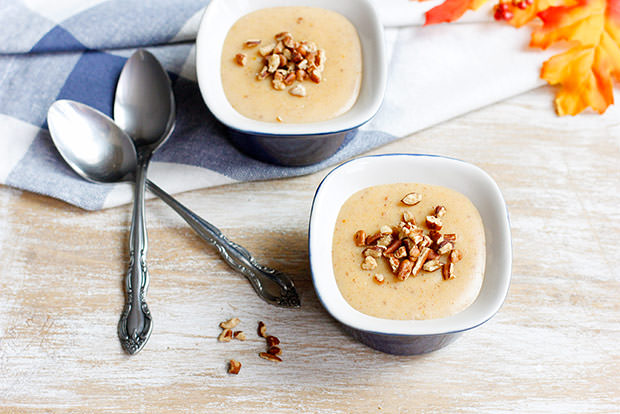 Pudding makes an easy treat to satisfy a sweet tooth but skip the instant mixes. You can reduce the added preservatives and artificial flavors by making it at home. This version is perfect for fall with vitamin-A-rich pumpkin and spices. It uses skim milk and no eggs to reduce saturated fat, cholesterol, and calories.
Nutrition Facts
Serving Size 1/2 cup
Amount Per Serving
% Daily Value*
Trans Fat 0g
12%
Total Carbohydrate
35.6g
Sugars 24.5g
*
The % Daily Value (DV) tells you how much a nutrient in a serving of food contributes to a daily diet. 2,000 calories a day is used for general nutrition advice.
Yield: 6 servings
Preparation time: 5 minutes
Cooking time: 15 minutes
Ingredients
3 cups skim milk
¾ cup raw sugar
1/3 cup pumpkin puree
3 tbsp cornstarch
¼ tsp salt
1 tsp pumpkin pie spice
½ tsp pure vanilla extract
Optional toppings: chopped pecans, chopped walnuts, whipped cream
Directions
In a medium bowl, whisk together the sugar and milk for about 30 seconds. Add the pumpkin and whisk until smooth. Sprinkle in the cornstarch and salt, and whisk until there are no lumps.
Pour the liquid into a medium saucepan and turn the heat to medium-high. Continue to whisk until the pudding begins to bubble and thicken. Once it is thick enough to coat the back of a spoon (about 15 minutes), remove from the heat and stir in the pumpkin pie spice and vanilla.
Pour the pudding into serving dishes. Place a small square of plastic wrap over the surface of the pudding to prevent skin from forming. The pudding can be eaten warm or chilled. It will thicken as it cools.