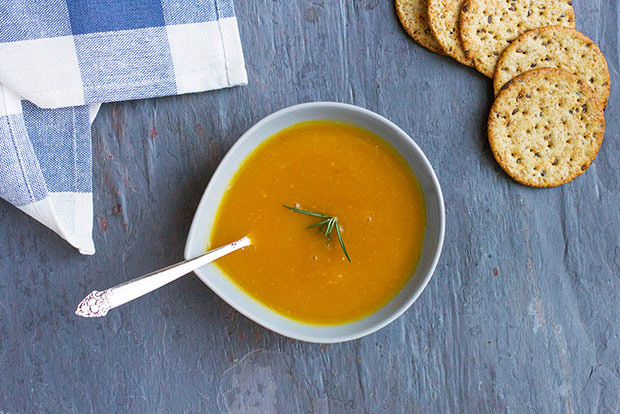 You can prepare this tasty pumpkin soup in less than 30 minutes. It's lower in sodium than most canned soups, and it's packed with vitamin-rich pumpkin and flavorful herbs and spices.
Nutrition Facts
Serving Size 1/3 recipe
Amount Per Serving
% Daily Value*
Trans Fat 0g
5%
Total Carbohydrate
14.1g
Sugars 5.8g
*
The % Daily Value (DV) tells you how much a nutrient in a serving of food contributes to a daily diet. 2,000 calories a day is used for general nutrition advice.
Yield: 3 servings
Preparation time: 10 minutes
Cooking time: 15 minutes
Ingredients
½ tbsp olive oil
½ cup chopped onion
2 cloves garlic, minced
¼ tsp smoked paprika
1/8 to ¼ tsp ground cayenne pepper (optional)
1/8 tsp poultry seasoning
15 oz. canned pumpkin puree
2 cups no salt added chicken or vegetable stock
¼ tsp fine ground sea salt
1/8 tsp ground black pepper
Fresh rosemary for garnish (optional)
Directions
In a medium soup pot, heat the olive oil over medium-high heat. Add the onion and garlic, and cook for 2 minutes. Stir in the paprika, cayenne pepper, and poultry seasoning. Cook for 30 seconds.
Reduce the heat to low. Stir in the pumpkin puree, then add the chicken or vegetable stock. Continue to stir until pumpkin and stock are combined. Use an immersion blender to puree the soup until smooth. You can also transfer the soup to a blender and puree.
Increase the heat back to medium-high. Simmer the soup for 10 minutes. Stir in the salt and black pepper and serve with a sprig of rosemary for garnish.