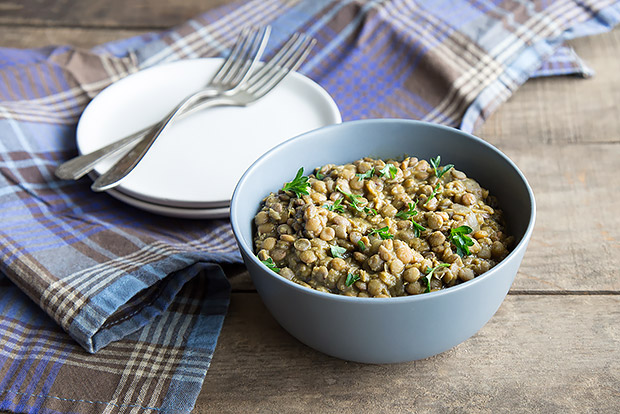 Lentils are full of protein and fiber. They can be served as a side dish or made into a soup or stew. Prepare lentils in the slow cooker for healthy meals with only ten minutes of preparation time.
Nutrition Facts
Serving Size 1 serving
Amount Per Serving
% Daily Value*
Trans Fat 0g
10%
Total Carbohydrate
28.8g
Sugars 1.1g
*
The % Daily Value (DV) tells you how much a nutrient in a serving of food contributes to a daily diet. 2,000 calories a day is used for general nutrition advice.
Yield: 6 servings
Preparation time: 10 minutes
Cooking time: 3 hours
Ingredients
2 cups brown lentils, rinsed
½ cup chopped onion
4 cups water
2 tbsp curry powder
¼ tsp smoked paprika
3 tbsp non-fat half-and-half or light coconut milk (optional)
½ tsp salt
¼ tsp ground black pepper
Chopped fresh herbs for garnish
Directions
Place the lentils and onion in the bowl of a 4 to 5-quart slow cooker. Pour in the water. Stir in the curry powder and paprika.
Cover with the lid and cook on high for 3 hours until the lentils are tender. Pour in the half and half or coconut milk, if using. Stir in the salt and black pepper. Serve warm, sprinkled with fresh herbs such as cilantro or parsley.